While Ithacans have been spotted occupying Wall Street, many have recently spurred local action to bring focus to the movement's main messages, which are clearly underrepresented in mainstream media coverage.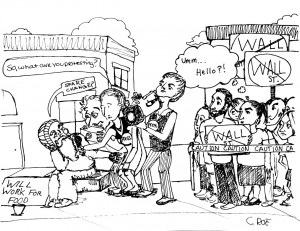 In solidarity with the Occupy Wall Street movement, members of the local community have congregated for General Assembly meetings to help shape the campaign. Ithaca College students held their own General Assembly last week to plan future actions.
Many criticize the Occupy Wall Street movement for its range of demands, but these assembly meetings are helping the "99 percent" clarify its requests. By planning direct actions, activists are creating awareness about local issues that result from what they deem as "greed and corruption of the 1 percent."
Some argue that corruption can't be erased. Oddly, the media uses the cynicism of the dissenters to the protest as a reflection of America's "consensus." The lack of diversity in their coverage reflects why many citizens feel they aren't being heard.
Owing loyalty to their readers and the public at large, media — locally, nationally and now globally as the movement spreads — have a responsibility to move beyond capturing just street action. News outlets should attend assembly meetings and speak to protest organizers. This will prevent media from using sound bites of tirading protesters to represent the movement, which only feeds the public's distrust.
With local meetings garnering more support each week, the movement is unlikely to stop anytime soon. Therefore, media should capture the diverse viewpoints as well as the dissenting comments to facilitate elevating public demands and provoking government and corporate responses.