When those midnight cravings kick in, a quick trip up to Towers to devour deep-fried, late-night food can satisfy some within minutes. But it's time to get off that fast track.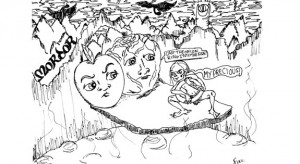 Students from Slow Food Ithaca College, an on-campus organization, have teamed up with two of the college's environmental groups to petition for more healthy, local food choices in dining halls.
The concept of slow food is exactly what it sounds like. As the opposite of fast food, it strives to preserve regional foods and encourages farming that keeps the local ecosystem thriving.
Processed foods, however, are cheap and convenient. This may be one reason why local agriculture is not a dining hall staple. These foods allow large suppliers like Sodexo, the corporation that runs the college's dining services, to order, ship and distribute food in bulk without fear of spoiling produce or meats — often because they're frozen.
As customers of Sodexo, students have every right to call on the supplier to source more of our campus food from within 250 miles of Ithaca. This is a reasonable request, considering the dining halls already purchase up to 11 percent locally.
If Slow Food IC wants the dining halls to further expand their menus` to include more local foods and a wider variety of options for those with dietary needs, it must take into account increased meal plan prices, which students may be hesitant to accept.
If students demand Sodexo provide more locally grown options, the dining halls may try to accommodate more people with dietary needs and encourage students to make healthier choices.
Students should kiss processed burgers goodbye and demand Sodexo to foster better eating habits.