Print journalism is dead, and new media killed it — the simplest ideological murder mystery since we heard "video killed the radio star," and I don't buy it.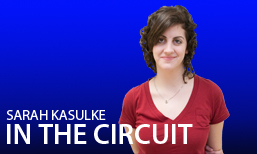 It may not have a pulse like it used to in the golden days of investigative journalism and Walter Cronkite's glorious mustache, but it would seem to me there's some rattling around in journalism's metaphorical coffin.
Oh, right, that would be the sound of journalists.
If you're enrolled in any class involving media or the written word, you've probably heard your professor lamenting — or gloating over — the death of real journalism. Real journalism is what professors claim that dang ol' Interweb killed, what with its blogospheres and Twitter feeds and the Huffington Post. Real journalism is what dashing reporters in high-collared trench coats used to do, flying around the country with nothing but a yellow legal pad and determination, wielding their trusty Bic at their side, exposing major political scandals just in time for Sunday's Page 3.
Apparently, that person is dead. Apparently, Twitter killed the real journalist.
The Internet damages newspaper sales. But as all-powerful as Google might be, it can't put a gun to the back of every journalist's head and pull the trigger. But my point remains: The Internet alone can't kill journalism. But bad journalists or phony journalists might.
There's something the average blogger or tweeter — twatter? tweetist? twitophile? — doesn't have that the real journalist does: an awesome trench coat, but also determination. If something major happens, that dang ol' Interweb is abuzz with people saying "ZOMG POLITICS" in their Facebook statuses. But when it comes to actual content and real, live investigation of events like the plane of the Polish president crashing in Russian territory, where are your reactionary twitophiles then?
That's why we need to put the zombie of print journalism — real journalism — where it can be heard. Because there's no one else to cover all of the news. Because no one digs deeper, works harder or is frankly more annoying than a real journalist. I'm sick of Internet reactionaries and information regurgitators who just like to see their name in the byline. Leave the narcissism and laziness to us humor columnists — we've got it down to a science.
To all those glorified stenographers out there — grab your AP Stylebooks, a trench coat and some determination. Let's see some real news or at least a pulse.
Sarah Kasulke is a freshman television-radio major. E-mail her at Skasulke@ithaca.edu.