Almost two years ago, The Ithacan wrote in the editorial "All Bark, No Bite," that the Student Government Association executive board at the time needed to offer more concise solutions to campus problems. Little has changed since then.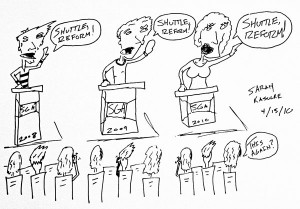 Earlier this week, SGA concluded its elections for the next academic year, electing a new executive board. But even with fresh faces and new ideas, the promises sound the same and lack a solid strategy.
The new board, team gIvebaCk, plans to focus on "creating sustainability initiatives, increasing transparency of SGA action and fostering communication between students and campus services." All of these goals, while tangible and early in conception, ring similar, if not identical, to platforms presented by past executive boards.
More communication with students, greater transparency in SGA decision-making and sustainability initiatives, such as the shuttle that has been in the works for years, are all positive goals that SGA members should work on. The new executive board is urged to look at what has worked and has not worked in the past in order to understand why these goals have not been met yet.
This year's board did make some specific changes that were a step in the right direction. More communication through newsletters and a revamped Web site brought SGA back into the college conversation. Its online course ranking system was also taken from conception to reality.
There are still some loose ends, though. The outgoing board is reminded that a smooth transition, including detailed updates and reports on its unfinished business, could help the next board move forward into the next year.
SGA represents the student body and is meant to develop and implement programs that will benefit the college. By offering a clear-cut agenda, the new board can begin to end this cycle of unfulfilled promises.