Two muscular men stand opposite each other inside the hexagonal fighting cage
prepared to face off in a round of fierce martial arts combat. Though they have spent months preparing for the fight, three strokes of luck that neither of the competitors could have trained for will have a major impact on the bout.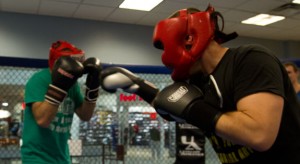 The Ithaca-based Fortune Fight League, founded by mixed martial arts promoters Ryan Ciotoli, Dave MacLean and Primo Bellarosa, combines elements of chance and skill in its aim to give amateur fighters more experience. There were 28 competitors participating in a series of 14 fights in the league's first event on March 17 at Ultimate Athletics in the Pyramid Mall.
Ciotoli, owner of Ultimate Athletics, said fortune fighters participating in the new league would learn the deliberate tactics they can use to gain advantages against their opponents.
"The new form forces a fighter to develop the technicality of each movement and focuses on gaining experience," he said.
The two fighters are divided into two locker rooms before the fight — one labeled as red and the other blue. Once the competitors step into the hexagonal cage, a ring girl flips a circular piece of wood with red and blue on the opposite sides to determine who will choose the fighting style for the particular round — grappling, Muay Thai or sanshou. The coin toss takes place before each round, giving each opponent an equal opportunity to declare the style for the round. The winner can choose any one of the three types of fighting that will be incorporated into each round.
While mixed martial arts juxtaposes hand-to-hand combat with the precision of karate kicks and explosiveness necessary in wrestling, fortune fighting breaks down each of these skills into separate rounds by focusing on one skill at a time. Grappling helps the fighter improve positioning and requires swift movements; Muay Thai strictly applies to hand to hand combat; and sanshou regulations incorporate kickboxing and the use of elbows and knees in some competitions. A panel of three judges determines the winner of the fight after the three rounds unless there is a technical knockout.
Gerald Bradley, an amateur fighter from Lockwood, N.Y., looking to turn pro, said he was nervous before his first fortune fighting bout and was afraid of the unknown aspect of it.
"I almost threw up in the back  before the match," he said. "I had done a grappling tournament last August, and that was a little bit of a rush, but with the loud rock music and large crowd this was a totally different feeling. I hadn't felt that way since my son was born."
Judges for the fortune fights look for a participant's ability to bounce back from hits to all areas of the body. Henry said he was looking for the fighter's ability to take control during a match when choosing the victor.
"Everyone is going to get hit, so you can't judge things based on that," he said. "It isn't about playing tag, it's who's doing the most punishing. What mattered in the end was which fighter was knocking the other one backward."
But wins and losses in fortune fighting are not counted toward an amateur fighter's overall record. The league also aims to provide a legal outlet for amateur fighters to gain experience in the cage. New York State law has forbidden the staging of live professional mixed martial arts contests since former governor George Pataki placed a ban on them in 1997.
Concerned with the safety of competitors, the New York State Athletic Commission has shut down many amateur shows for more than 10 years. This forced fighters training in New York gyms to travel to other states such as New Jersey to compete.
Stephen Koepfer, who founded the Coalition to Legalize Mixed Martial Arts in New York, said the lawsuit's ending allowed promoters to organize fights the state had unfairly blocked them from holding in the past.
"The state took a napalm approach," he said. "They created the impression that amateur MMA was illegal when it really wasn't, and even if you knew it was legal you couldn't do a show because they would come in and stop you."
Following a lawsuit against New York state from Zuffa, the company that owns the
Ultimate Fighting Championships, state officials acknowledged that amateur mixed martial arts shows were legal in their defense.
Because of this claim in the lawsuit, more events like fortune fighting have been able to occur. The TNT Fight Series, which will feature Muay Thai fighters and will take place May 19 in Tonowanda, N.Y., will be the first New York state-sanctioned amateur mixed martial arts show in nearly a decade.
The fortune fights bring an element of fast-paced action that is not present when
opponents are training. Briggs Seekins, a fortune fighter from Ithaca, said the new form alters the intention of each competitor.
"When you spar, you're thinking about what you're doing, and it might get a little chippy, but you're not trying to hurt the other person," Seekins said. "In a fight, you're thinking about hurting the person as quickly as you can, so there is a different mindset required."
Ultimate Athletics trainer Eric Henry said fortune fighting blends all the necessary techniques to make the ideal martial arts fighter.
"There's no such thing as mixed martial arts — it's just cross-training," he said. "Every fighter comes from a specific tradition and blends their experience in this one form of fighting. The trainer must be able to read the trainee's charge to know what and how much his competitor needs to learn."
Bradley said each round of his fortune fight passed by so quickly that he could not recall certain aspects of it.
"Sparring is more focused on developing your technique — picking and choosing your shots to see how the other guy will react," he said. "But when you get into the fight, everything is happening at 150 miles per hour, and I had to adjust to that."
The next Fortune Fight League event is scheduled for June 2 and will feature the same number of competitors.
Patrick McGreal, a membership coordinator at Ultimate Athletics, said experience in the Fortune Fight League helps fighters gain versatility in their skill set.
"Guys develop through wins and losses and take whatever individual rewards they can from them," he said. "But to be prepared is the greatest strength they can have."