With two disappointing seasons behind it, the baseball team is relying on a young pitching staff to earn the program's first Empire 8 Conference title since 2009.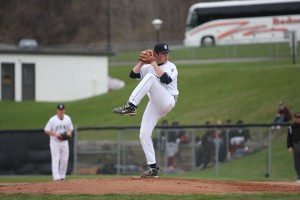 Senior pitcher and captain Tucker Healy, who had half of the team's saves last season, said the Bombers have used last season's disappointing 18–14 overall record as motivation to do well in 2012.
"That feeling of losing last year and not making regionals or winning Empire 8 just stunk," he said. "So from the last game last year until now we've just been waiting for this day to get back out there and redeem ourselves."
Senior second baseman Matt Keller said the Bombers' success this season would require a combination of young talent and veteran leadership.
"People are just going to have to come in and step up this year," he said. "We're going to be young, and hopefully they come in, do their job and learn from people who already know how to play hard and work hard."
The pitching staff will heavily rely on inexperienced players such as junior Pat Lemmo and senior Ian Rebhan to anchor the pitching staff after the South Hill squad graduated starting pitchers Aaron Sapp '11, Dan Lynch '11 and Andrew Wall '11.
Junior Jasper Adams and senior Brian Eggleston will miss the season because of arm surgeries. Adams had a team-low 1.59 earned run average last season, while Eggleston had 11 strikeouts in six appearances last season.
While the pitching staff has little experience, Head Coach George Valesente said he feels confident in the Bombers' fielding and hitting. He said the new Athletics and Events Center has helped the team prepare for the start of the season because the infielders can get use to specifications of the Glazer Arena floor.
"The field house has helped a great deal with us getting the extra work in and being able to do the things that we haven't been able to do before," he said. "In years past when we were in the Hill Center there just wasn't enough space or time to do the things we wanted to do."
The team has experience around the infield, with sophomore shortstop Tim Locastro, Keller and senior infielder Teagan Barresi returning. Barresi had a team-high batting average of .425 in his first season with the Blue and Gold after transferring from conference rival St. John Fisher College, while Locastro committed only seven errors in 32 games.
Valesente said he and the coaching staff have been impressed with the players' hard work and improvement throughout the preseason.
"We're going to need some young pitchers to step up and give us the necessary depth that we're going to need," he said. "We're happy with the progress the younger pitchers and players are making."
Though the Blue and Gold have their sights set on winning the Empire 8 Conference Championship, Healy said the team is taking the season one day at a time.
"This year we're going with a new perspective, and we're going to go one strike at a time, one inning at a time, one game at a time and try not to look too far ahead," he said.