The baseball team defeated visiting St. John Fisher College on Friday by a lopsided score of 16–2 on Freeman Field. The Bombers collected 16 hits and a school record nine batters were hit by a pitch.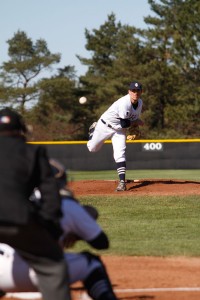 The Blue and Gold followed junior pitcher Pat Lemmo as he pitched a complete game four-hitter, using just 103 pitches. Coming into the game, the Cardinals led the nation in scoring but Lemmo silenced them. He struck out six batters on the day and retired 17 of the last 18 batters. Meanwhile, the Cardinals used seven different pitchers throughout the game, none of which lasted more than three innings.
The Bombers scored in every inning except the fourth, led by sophomore shortstop Tim Locastro and junior catcher Corey Caswell who finished the game with four hits apiece. Three of Caswell's hits were doubles as he drove in three runs. Senior right fielder Teagen Barresi had three RBIs to lead the team.
The Blue and Gold square off again with Fisher today in a doubleheader on Freeman Field. Action begins at 1 p.m.