For the past 31 years, the men's soccer team has seen players come and go under the watchful eye of longtime coach Andy Byrne. However, this season one of those former players will step into another role to take over for the legendary coach.
Patrick Ouckama '05, a former four-year starter and captain for the South Hill squad, will be leading the Bombers during the 2015 campaign after Byrne announced his retirement last February. Ouckama, last season's assistant coach, said he is ready to lead the Bombers with the spirit and influence provided by Byrne for so many years.
"I feel very fortunate to be in a position where I have played and worked for coach Byrne," Ouckama said. "I can draw from his experience as well as from my own."
The former Bomber defender inherits a group of players that finished last season with an overall record of 6–8–3, a conference record of 5–1 and an Empire 8 Conference Championship loss to Stevens Institute of Technology. Ouckama said he believes being a part of the coaching staff last year will work to his advantage and will lessen the growing pains that come along with a new leader.
"We have a strong group of experienced players returning this fall," he said. "I am excited to work with them again."
Senior midfielder Brandon Thompson, who played 15 games last season, said despite the off-season changes, the team is excited for this season.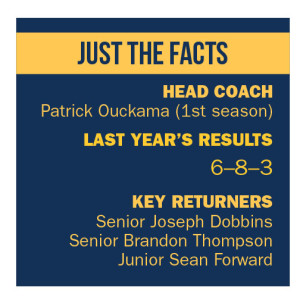 "There is a lot of anticipation for this season," he said. "We have a good group. We have been working hard in the off-season, and hopefully it all comes together."
The team returns with veteran leadership in all major areas of the pitch with senior Joseph Dobbins in the backfield, Thompson in the midfield and junior lead-scorer Sean Forward at forward. Dobbins drew duty in 15 games last season, starting 13 of those games. The senior defender collected four points in last year's campaign on one goal and two assists. Leading scorer Forward had five goals on the season along with one assist.
Dobbins said he is optimistic about the upcoming season because of the strength of the upperclassmen.
"We have a lot of key players returning from last year," he said. "We also have a good recruiting class coming in as well that we feel we can compete with."
Even though the team has returning players, it also has some key losses to overcome as it goes through camp. Most notable are the losses of Casey Williamson '15 and Jordan Gentile '15. Williamson, the Bombers' second–leading scorer with four goals last year, had great chemistry with Forward — chemistry that will have to be made up by someone new.
The Blue and Gold will have to fill the big hole left by Gentile, the starting goalie last season, who put up 1,573 minutes of playing time. Ouckama said he has not decided who will fill the void, but he will certainly have to make a major decision early in his head-coaching career between sophomores Brian May and Dan Hinckley, who are fighting for the starting job.
"I expect them to compete with each other for the starting position on a daily basis," Ouckama said. "But I expect that of every player who makes the final roster."
Ouckama said he has not set any starting lineup for opening day, saying he is going into this season with open eyes as to who will start for the Bombers. With big names such as Gentile and Williamson gone, Ouckama said there is a need for someone new to step up.
The Bombers will be up against a very tough early season schedule. In the first month of the season, the Bombers will have matchups with SUNY Oneonta and SUNY Cortland, both nationally ranked teams. The Bombers were defeated by Oneonta early last season by a score of 4–0 and took a 2–0 loss to Cortland.
The Bombers will also face a tough conference game with Utica in the beginning of their 2015 campaign. In Utica's 2014 campaign, the Pioneers went 7–9–3, but the Blue and Gold were able to come out on top in their matchups against the Pioneers with a pair of wins.
The Blue and Gold will also have a mid-season matchup with nationally ranked Stevens and have a slate that includes five of the last seven games on the road. Ouckama is relying on an improvement of mental strength to help the players get through their tough schedule.
"There are a lot of tough contests in a very short period of time," he said. "To be successful in our region — specifically in our conference — we have to be a team that doesn't get too high or too low."