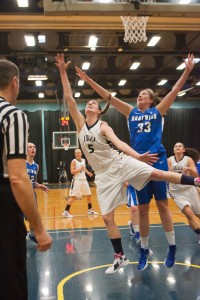 With the women's basketball team trailing by five points to Hartwick College in the Empire 8 Conference Tournament Final and time dwindling, junior forward Devin Shea was not thinking about the Bombers' previous postseason shortcomings.
"We knew there was a lot of time left to score those five points, and we just had to keep fighting and playing great defense," Shea said. "We had to stick with it and not get down on ourselves."
The Blue and Gold captured the conference championship in their fourth consecutive finals appearance Saturday in Ben Light Gymnasium. The South Hill squad rolled off a 12-2 rally in the final three minutes and stunned Hartwick by pulling off a 43-38 comeback victory.
After a three-pointer by senior guard Jessica Farley, the Bombers got another offensive possession that set up Shea's game-winning shot. Shea lowered her shoulder, dribbled hard with her left hand and went up strong for the decisive layup.
Shea said the possession didn't work out the way the Bombers had drawn it up.
"We had set up one of our basic sideline out-of-bounds plays, so there were options that we were looking for, but none of them were open," she said. "So when I got the ball, I decided to drive and make [Hartwick] collapse to open up a kick-out opportunity."
The Hawks decided not to collapse their defense, so Shea saw her opportunity to score.
Upperclassmen players, like Farley, said the win symbolized the result of hard work and sacrifice throughout their careers.
"It feels amazing for me — especially after four years — to finally end the Empire 8 on a good note," she said.
Senior guard Jackie Shinall said the Blue and Gold had an extra bit of fire throughout the game because they had come within one win of an automatic berth to the NCAA Tournament.
Shinall, an anchor of the team's backcourt, missed six games late in the season with a broken hand. She said she was glad to be able to be in the starting lineup and celebrate winning the conference with her teammates.
"It meant everything to me," Shinall said. "It was really nice to be back in time to play another game. I'm proud of what my team was able to accomplish during the season as well, and that's what got us here, but I was glad to be back out on the court."
The Bombers will not be able to celebrate their title for very long, however, as they will host the NCAA Tournament Regional when they tip off against Elms College, a team from the New England Collegiate Conference, on Friday.
The Blazers compiled a 20—8 overall record this season and defeated Daniel Webster College to win its conference and earn an automatic bid to the national tournament.
Farley said the team is not ready to close the book on this season yet.
"Our ultimate goal is to make it to the final four and win that national championship," she said. "In practice everyone's mindset will be shifted. It's great that we won, but now we have to move forward and get to work on our next goal."