The seniors on the women's lacrosse team have qualified for the NCAA Tournament, earned the right to host the Empire 8 Conference Championships and defeated the top team in the nation at least once during their four years on South Hill. But they are still waiting to receive the off-white T-shirt emblazoned with the words "Empire 8 Champions."'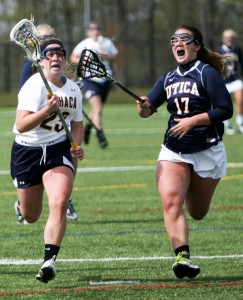 This weekend will be the last chance for the Blue and Gold's three seniors — attack Nicole Borisenok, midfielder Siobhan Sullivan and attack Racquel Lividini — to win a conference title on their home field in Higgins Stadium.
The South Hill squad has not won the Empire 8 since 2008 and has fallen to Stevens Institute of Technology the past two seasons in the conference finals.
The squad ended the 2012 regular season with an unbeaten mark at home in the midst of a nine-game winning streak. Sullivan said the team is relieved that it doesn't have to travel four hours for the conference tournament like last year when Stevens hosted it in Hoboken, N.J.
"Having the bus legs and not being used to the field and the area is a disadvantage," she said. "You feel more confident when you're at home. It helps to be able to come out and play where you practice every day."
Borisenok said the Bombers are proud, but not content with their undefeated records at home and in conference play this season.
Though it's their last chance to win a conference title, junior attack Tracy Rivas said the three seniors are still team-oriented.
"They never bring it up in practice that it's their last game, or their last season or their last E8 championship," she said. "They really make that point when we're practicing together that it isn't just about them, it's about the team as a whole."
The South Hill squad is 4—1 this season in games decided by a single goal. Rivas, who scored the winning goals in the Bombers' one-goal victories against Stevens on March 31 and Hamilton College on April 24, said the pressure of close games often brings out the best in her.
"When it comes down to the wire in the last couple minutes of the game, and you're up by one point, I'm always about to vomit all over the field because I'm so nervous," she said. "But at the same time, you want to win and you play your heart out for those moments."
The Bombers will play Nazareth College, a team they have eliminated from postseason competition the last two years, in the conference semifinal Saturday in Higgins Stadium. Borisenok avoided labeling the Blue and Gold as the favorites to win the Empire 8, but said the team is entering the contest with confidence.
"We definitely are going in with a little bit of swag," she said. "We have the number one seed, but we have to remember what happened the past couple of years — that Stevens has always taken it from us right at the end, and we're not letting that
happen this year."