With 40 club sports teams on campus, ranging from equestrian to ballroom dance to more traditional sports, such as soccer and basketball, an increased funding for equipment and transportation requires much administering on the college's behalf.
At the end of April, the Office of Recreational Sports created a cutting-edge system involving separated tiers to categorize each club sport into a respective tier.
Sean Reilley, program coordinator of Fitness and Fitness Center Management, said the staff has looked closely over the last few years regarding the tiering process, and there was not one occurrence that caused the change.
"There wasn't any single issue or event that was the driving force behind the change, but we have been taking a hard look at our processes and the way that we are doing things here and the tier system, at least so far, allows us to better allocate their resources we are working with," Reilley said.
The initiative was put forth by Mike Ostman, former sports club director, who has since left the college for a new position as the coordinator of Sport Clubs and Outdoor Adventures at University of Texas–Rio Grande Valley.
The first tier is divided into two divisions, blue and yellow. Tier one blue clubs are defined as "clubs that have the potential to compete nationally and are governed by a national governing body," and are also defined as "clubs with high risk, covered by insurance and require a certified adult coach," according to the Office of Recreational Sports, whereas tier one yellow clubs entail a moderate level of risk and can have a student coach. Sports grouped in this tier receive an allocated budget at the start of each academic year and must raise 60 percent of the allocated budget.
Tiers two and three, however, are defined as recreational and performance sports, which receive no funding, but they are allowed to request funds on a need basis.
In the past, each club has received an allocated budget at the beginning of the year, depending on how much they require for the season. This new system changes the game.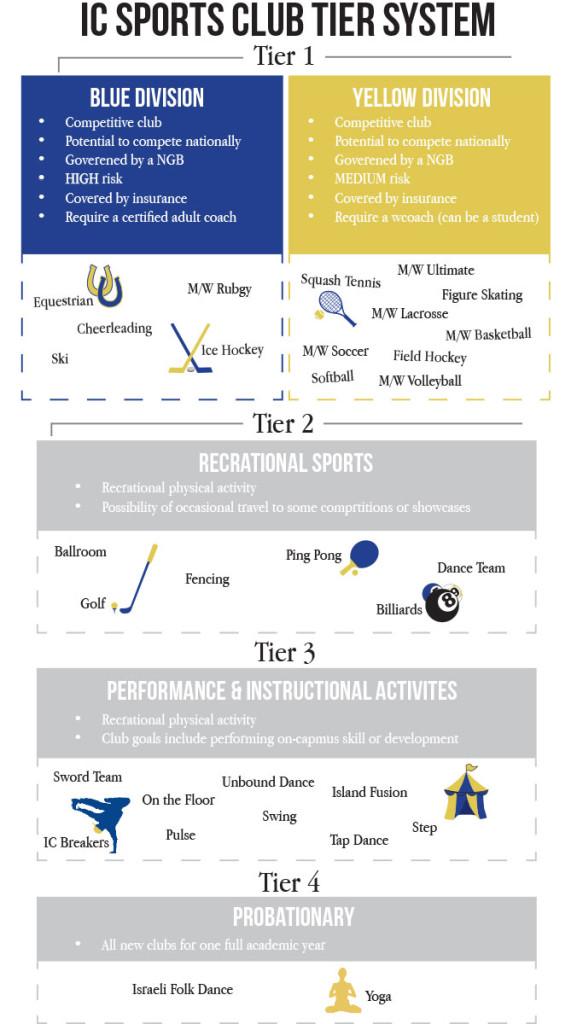 Reilley has since taken over the responsibilities of being the club sports coordinator, and he will continue to do so until the new coordinator is introduced toward the end of September.
Reilley said they are very early on in the process in deciding the allocations for funding and have not received any official requests from teams.
"Through a couple of conversations with sport club officers, there will be some need but very manageable," Reilley said.
Senior Zander Hoke, president of men's club ice hockey, said he heard of the new system coming into action when he was vice president his sophomore year.
"To me it was a promise in the fog that it was coming for a long time," Hoke said. "Basically, I've been hearing about it for two or more years."
Reilley said so far he has not received any complaints from club officers regarding the new system.  
"There's been no major backlash about the tier system itself," Reilley said.
Senior Brittany Asito, president of Ithaca College Cheerleading, said the squad, which is now in tier one, was not always in the highest tier. She said she believed her team met the requirements for the tier and thus deserved to be moved up.
"We felt we should be in tier one, but they still felt we should be in tier two," Asito said. "At the end of last year, we set up a meeting with sport club, and it basically came down to a lack of understanding of what we were all about. They never really took the time to come and ask us. At this meeting, that's when they announced the new system, and we had no idea this was coming and we of course were upset."
Asito also said although they do not receive the allocation that other tier one club sports get due to the late change, it has not affected their budgeting plans.
"We are able to operate normal as if we had it because he feels we deserve we should get it," Asito said.
Junior Eric Finkelstein, the club president of men's volleyball, which is in tier one yellow, said his club has benefited greatly from the tier system as it has given the players what they felt they deserved.
"The fact that we got a decent amount of more money, budgeting became a lot simpler," Finkelstein said.
Junior Devon Baris, co-president of IC Circus, which is grouped in tier three, said he was surprised by the change, but his club would be able to adjust to the new system.
"Initially I was worried," Baris said. "I wasn't quite sure what was happening because when they presented it, it was not 100 percent what they were going for, it was most of the way there. The way it is set up now, I'm OK with it."
Baris also said he is willing to give the new system a chance to work out all of the flaws.
"The new system has the chance to work depending on the management and how much money we get," Baris said. "I can't say which one I prefer until this year is up."
Senior Tyler Ashe, president of men's club lacrosse, which is in tier one yellow, offered a new solution for how the system could improve over the following years.
"Maybe in the beginning of the year, the teams that don't get funding at all throughout the year, [do] on a request for funds for this specific reason," Ashe said. "Maybe allocate an even amount over all of those clubs and per semester. If they don't use it, then lower it. If they do use it, then up it a bit. Updating it semesterly could alleviate the tension."