The men's swimming and diving team has found its yin and yang with its accomplished coaching duo.
Head Coach Kevin Markwardt and Diving Coach Nate Brisley, who have led the Bombers to a 16—1 record this season and three top-three finishes in the Upper New York State Collegiate Swimming Association Championships, are building off of years of sustained success.
Markwardt began coaching the Bombers as an assistant for the women's swimming and diving team three decades ago. He began coaching the men's team after six seasons with the women's team, and he has trained 23 All-Americans in 24 seasons.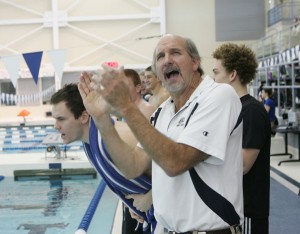 Brisley is a more recent addition to the South Hill squad and has been its only full-time diving coach since his tenure began prior to the 2008-09 season.
Before Brisley was hired, Markwardt would have to juggle coaching both the swimmers and divers. As the number of divers grew from two in 2006 to five in 2008, it became difficult to give each diver the one-on-one time he needed to improve his technique, Markwardt said.
"On paper we had a successful season, but we were a bunch of unhappy people," he said.
Brisley helped train 33 All-American and 40 all-conference divers at the Division II St. Cloud State University in St. Cloud, Minn., before arriving on the South Hill. He said his methodical coaching style includes having the divers break down their bigger objectives for the season into smaller tasks that build on one another.
"I have them arrange their goals from end of the year, in between meets and daily goals, as well as obstacles to their goals," he said. "This gives them something to be accountable for that doesn't seem too overwhelming."
Brisley said one of the most difficult aspects of coaching divers is to get them to keep trying new approaches even after they've set their big-picture goals.
Markwardt said Brisley's help on the team allowed him take a more hands-off approach and let the captains motivate the team to stay focused between dual-meet events.
"Once I had less to do, I felt like I could set up our leaders with the tools they needed to lead by both word and example," Markwardt said. "I could pay more attention to smaller details rather than the big picture."
In four years of coaching divers on both the men's and women's teams at the college, Brisley has led five divers from the men's team to all-state finishes. He also teaches out of his experiences as a diver at the Division II level. He was a national champion on the 3-meter board in 2004 and was named the NCAA Diver of the Year that same season as a member of the Drury University Panthers in Springfield, Mo.
Junior Martin Brown said Brisley's recent success as a diver at the collegiate level makes it easier for him to relate to the divers, as he can sympathize with their recent triumphs and defeats.
"A lot of the issues and struggles we're going through, he went through," Brown said. "He'll bring up situations where he made mistakes, and he does it to so the same things don't happen to us."
Brown was victorious in both the 1- and 3-meter dives in his debut against LeMoyne College during Brisley's second season at the helm. He has made the NCAA qualifying round for both diving events with scores of 443.4 and 498.15 at the 1- and 3-meter heights respectively with the help of Brisley.
Senior captain James Sica said Brisley's more expressive approach works well alongside Markwardt's laid-back attitude.
"He's very motivational to the divers and very vocal during practice," Sica said. "He's a great coach, and it's fun to watch and see the differences between the two of them and see how they both work."
Despite being named Empire 8 Conference Coach of the Year in 2004 and having the most wins in the program's history with 292 career victories, Markwardt said Brisley has changed the way Markwardt quantifies his team's triumphs.
"People want to win, but how you get there is important," Markwardt said. "My goal is for the kids to say at the end of the year that they really enjoyed that season. It's the process, not the result."