The top runners on the men's cross-country team have displayed high levels of endurance that have acted as motivation throughout the season. But fatigue caught up with the Bombers at their biggest meet of the season, Lehigh's Paul Short Run, on Sept. 30.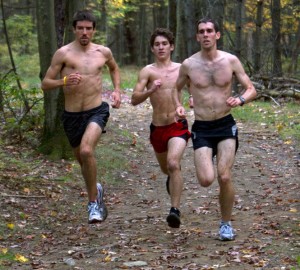 With the Bombers' final regular season meet this weekend, the Oberlin Inter-Regional Rumble in Oberlin, Ohio, the team has toned down its preparations from earlier in the season.
Junior Mark Vorensky said the team's players have shifted from longer runs to training more specific areas of their bodies.
"In the early season, you go really hard and do heavy volume and heavy mileage, but when you get to later in the season, you kind of fine-tune things," he said.
Senior Daniel Craighead said it also becomes more important to conserve energy during practices throughout the second half of the season.
"Our runs are getting shorter so we can recover a little better," he said. "And our workouts are getting a little faster, so we're used to that quicker pace for the championship meets."
With three crucial postseason meets coming up within the next month, the Bombers said pacing themselves now will pay off later. Instead of doing 1,800-meter laps in practice, the team does 1,000-meter laps and tests its speed in timed trials.
Head Coach Jim Nichols decided the team would not attend the Reif Memorial Run at Cornell University on Oct. 21 in order to enter as many runners as possible in the New York State Collegiate Track Conference Championships the following day at St. Lawrence University.
Nichols said he pulled his runners out of the race because he hopes to have 12 athletes run at the Empire 8 Championships on Oct. 29.
Even with the team's greater depth, Nichols said, the team needs to work on closing the gaps between its top runners.
"Nobody has to win a race for our guys to be successful," he said. "We just need five guys to be as close together and as close to the front as we can get."
So far the Bombers' top two runners have been Craighead and junior Nathan Bickell. Bickell has recorded the team's top individual finish in all three meets he's competed in, while Craighead has had at least the third-best time on the team in the three meets he has participated in.
Juniors David Geary and Vorensky haven't fared well in large meets, but with six- and 10-team fields at the NYSCTC Championships and Empire 8 Conference Championships, they're more likely to put in better times.
A narrow gap between finishers is especially important in cross-country, in which only the top five runners on a team can score points.
SUNY-Cortland men's cross- country Head Coach Steve Patrick said the Blue and Gold weren't at their best at the Lehigh meet, but he doesn't expect the gap between runners to widen in the postseason.
"I'm sure from the results there, they didn't have anybody run to their full potential," he said. "In the meets that matter — states and regionals — I'm sure they're going to run a lot better."
Unlike in past seasons, the Bombers will actually begin the postseason during fall break at the NYSCTC Championships. It's a relatively minor change from the team's usual schedule, but Nichols said it is a positive one because of the stress of balancing an increased amount of schoolwork with cross-country championships.
"Fall break is always nice because they're not taking classes for a day or two," Nichols said. "Midterms are coming up, so even though we're backing down the stress of training, there's an increase in stress in academics."
Vorensky said success against major competition motivates the team as it prepares for every postseason meet.
"What most runners live for is just getting in that big competition, and showing what we can do," he said.