Whether he's in the game or on the bench, he doesn't stop moving. While he hangs on the wing, he's constantly bouncing on the balls of his feet, awaiting his point guard's next move. Then with the blink of an eye, he cuts toward the basket and effortlessly sinks a layup. With another blink, he's back on defense.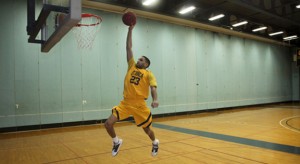 He makes it look easy, but senior Chris Cruz-Rivas wasn't always so well-versed in basketball. As one of five children, he grew up playing pickup games with his siblings, but wrestling was his main sport. Cruz-Rivas didn't start playing competitive basketball until high school.
"I didn't even know what AAU was until junior year of high school going into my senior year," he said. "I wrestled all year long, every opportunity I got, but once I got to high school I had to choose."
After talking to the coaches of both teams and a number of friends, he was eventually swayed to play basketball because it was something he could practice on his own, whereas wrestling requires an opponent.
His one-on-one wrestling mentality lends itself well to basketball, though. On defense, Cruz-Rivas' head is on a swivel. While guarding off the ball he's in his typical bouncing step, always keeping his man between him and the basket. If his man gets the ball, Cruz-Rivas pounces like a lion after its prey.
Cruz-Rivas said a couple of summers ago, Bombers' Assistant Coach Nevada Smith put him to the test by telling him he wasn't a good defender. Since then, he's guarded the best player on the opposing team.
"That adds a lot of pressure because it's either, 'You stop him and we win, or let him score 30 and we lose,'" Cruz-Rivas said.
Though Cruz-Rivas has become a defensive powerhouse, senior center Phil Barera, Cruz-Rivas' roommate, said the diversity he brings to the court helps the team most.
"He's our best defender, he can rebound, he can score, he can shoot the three, he can get to the basket, he can post up — he does a little bit of everything," Barera said.
The 6-foot-3-inch guard sits behind the 3-point line and hits swish after swish. At the tail end of his smooth jump shot, he leaves his right arm up long past the point of the follow through. Wrist bent, body leaning, it's as if he's guiding the ball through the hoop.
When he's in the game, Cruz-Rivas carries a stern focus. But off the court, he's all smiles. Cruz-Rivas said he's really into comedy and watches "The Fresh Prince of Bel-Air" every day.
"I wish I was this age in that era — late '90s," he said.
Cruz-Rivas spent his first two years of high school at Fowler High School in Syracuse, N.Y., and transferred to West Genessee High School in Syracuse as a junior, where he met Steve Dunham '94, the West Genessee boys' basketball coach.
Dunham said Cruz-Rivas came in with a ton of athletic ability, but he needed to master subtle nuances of the game — such as moving without the ball, knowing how to use screens and talking on defense.
"His learning curve, from his junior year to senior year, he just went from a kid that was just learning how to play to someone that knew the game well enough now so that things started to slow down for him," Dunham said.
Early on, Dunham said he knew Cruz-Rivas had the talent to play at the collegiate level, but playing in college was second to getting an education. When he enrolled at Ithaca College, Cruz-Rivas became the first member of his family to go to college.
"I didn't know what to expect," Cruz-Rivas said. "I didn't have an older sibling or parent to tell me. It was exciting because I knew it would eventually persuade others in my family to attend as well."
While Cruz-Rivas said Dunham, a two-time All-American for the South Hill squad, played a part in helping him make his college decision, he said staying close to home and being able to play with his college teammates, many of whom are from the Syracuse area, during the summer also appealed to him.
Head Coach Jim Mullins said he still remembers the first time he saw Cruz-Rivas play.
"The thing that was pretty hard to miss in the gym was his unbelievable athletic ability," he said. "He was playing above the rim, and everybody's going, 'Who is this kid?'"
Cruz-Rivas is the first person at practice and the last one to leave. He constantly looks to his coaches to feed him more drills.
Former Bomber guard Brendan Rogers '09, who played with Cruz-Rivas during the summer, said he was able to gain leadership experience from playing with upperclassmen.
"He's worked hard ever since he's been there," Rogers said. "He's a good role model for some of the younger players, and he leads people in the right direction."
After noticing a drop in the Bombers' rebounding numbers coming into the year, Cruz-Rivas said he made it a goal to beat out Barera, who has at least three inches on him, in rebounding.
In the Blue and Gold's 91–69 win Friday over Hartwick College, Cruz-Rivas showcased his tenacity on the glass, snagging a career-high 18 boards.
Cruz-Rivas knows just how crucial those numbers are. Coming into college as a mathematics major, Cruz-Rivas said he spent most of his time cramped up in his room doing math problems before changing his major to something that came more naturally to him as an athlete.
"My ultimate goal hopefully is to teach and coach," Cruz-Rivas said. "That's really what I want to do."
With another semester left at the college for student teaching and another potential year for graduate school, Cruz-Rivas, a health promotion and physical education major, said he misses wrestling and is considering making a return to the sport but understands it would be difficult.
"I have respect for all those other guys," he said. "It would be kind of disrespectful for me to say that I can just jump back into that sport like that because it's not an easy sport. You have to be in incredible shape."
Dunham said whether it's athletics or academics, Cruz-Rivas doesn't talk about his success.
"He just goes out and does the things that he needs to do to put himself in a position to be successful," Dunham said. "That's the thing that separates him from a lot of other people."