New faces have led the women's cross-country team to three first- place finishes this season.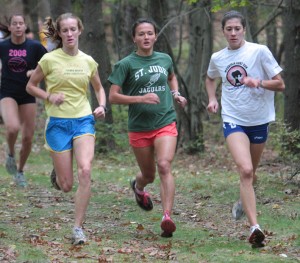 There are nine freshmen on this year's squad, more than any season since 2006. But freshmen Alexa Rick and Anastasia Diamond have been at the forefront of the Blue and Gold's freshman class, finishing in the top 20 of all five of the team's races this season.
Rick was a standout out for Elyria Catholic High School in Elyria, Ohio, as a captain during her junior and senior years.
Her college career started with a third place finish and a time of 19:06 in the 5-kilometer race. One week later, she placed fourth at the Oneonta Airfield Invitational in the 6-kilometer race, with a finishing time of 23:42.
Rick said the upperclassmen's  patience motivated her to perform well in the first few races.
"They were very approachable and really took us under their wing," she said.
Diamond was also a prominent runner for Pennsbury High School in Yardley, Pa. She led the Falcons to the Pennsylvania Class AAA State Championship meet during her senior year.
Diamond has had great success  since joining the Bombers, as she finished seventh at SUNY-Oswego and 10th at SUNY-Oneonta.
Rick said her goal for her first season was to finish all of her races in less than 19 minutes, a feat she accomplished in the 4-kilometer run at the Jack
Daniels Invitational on Sept. 24 at SUNY-Cortland.
Head Coach Bill Ware said Rick and Diamond were able to make a smooth transition to Division III competition since both of them trained and competed on successful high school cross-country teams.
"With most of the kids, it takes a year, but the two freshmen we have now are from good programs and are used to the workouts," he said.
Rick said she was used to racing against more competitors at the high school level, so the first few weeks of the season have not been as stressful as she thought they would be.
"Our first races have been pretty small, so they've broken us in nicely by not giving us overwhelming tasks," she said.
Lehigh's Paul Short Run on Saturday was the Bombers' largest competition this season, as 386 runners from 44 teams competed in a 6-kilometer race.
Ware said Rick and Diamond learned how to run in a pack as opposed to earlier races when they were alone at the front.
"The newer runners didn't realize that they're gonna get elbowed and that there are people around you for the entire six kilometers no matter how fast you're running," he said.
Diamond said the larger race helped her work on her endurance.
"It was good experience to be put in such a large group and figuring out how to pace yourself while still trying to work with other girls," she said.
Rick placed a respectable 98th overall for the Blue and Gold with a time of  23:55, while Diamond had a finishing time of 24:19 that was good enough for 151st.
Ware said he sees great potential in both runners, and he compared them to former All-American runners Jannette Bonrouhi-Zakaim '89 and Lindsey Nadolski '08.
Bonrouhi-Zakaim is the only four-time All-American in the college's history, and Nadolski had six top-15 finishes her freshman year. Ware said Rick and Diamond are motivated by the upper classmen who provide examples of hard work and excellence.
"The younger girls look up to them and realize it could be them if they continue to improve," he said.