At the 2016 Summer Olympics in Rio de Janeiro, Ithaca College was represented by rowers Emily Morley '16 and Meghan Musnicki '05. No Bomber athletes suited up in 2018 Winter Olympics in Pyeongchang, South Korea, but the college's presence was still felt in the form of interns.
Eight students from the Roy H. Park School of Communications spent much of January and February in South Korea working for NBC on its broadcast of the games and 21 students worked during the games at NBC's headquarters in Stamford, Connecticut.
While students from the college have been interning for NBC at the Olympics since 2006, a new program allowed 20 sport management students to participate in internships in Pyeongchang. The students engaged in a program created by Wonyul Bae, associate professor in the Department of Sport Management and Media, in which they worked closely with the Korean Olympic Committee at seven Olympic venues.
Bae said he created the program for sport management students because it would serve as a good work experience and an even better life experience.
"I believed that attending the 2018 PyeongChang Olympic Games would be a once in a lifetime opportunity for our sport management students," Bae said.
Bae said he spent a year and a half working with the Korean Olympic Committee to organize the program. The committee and the college signed a memorandum of understanding in January 2017.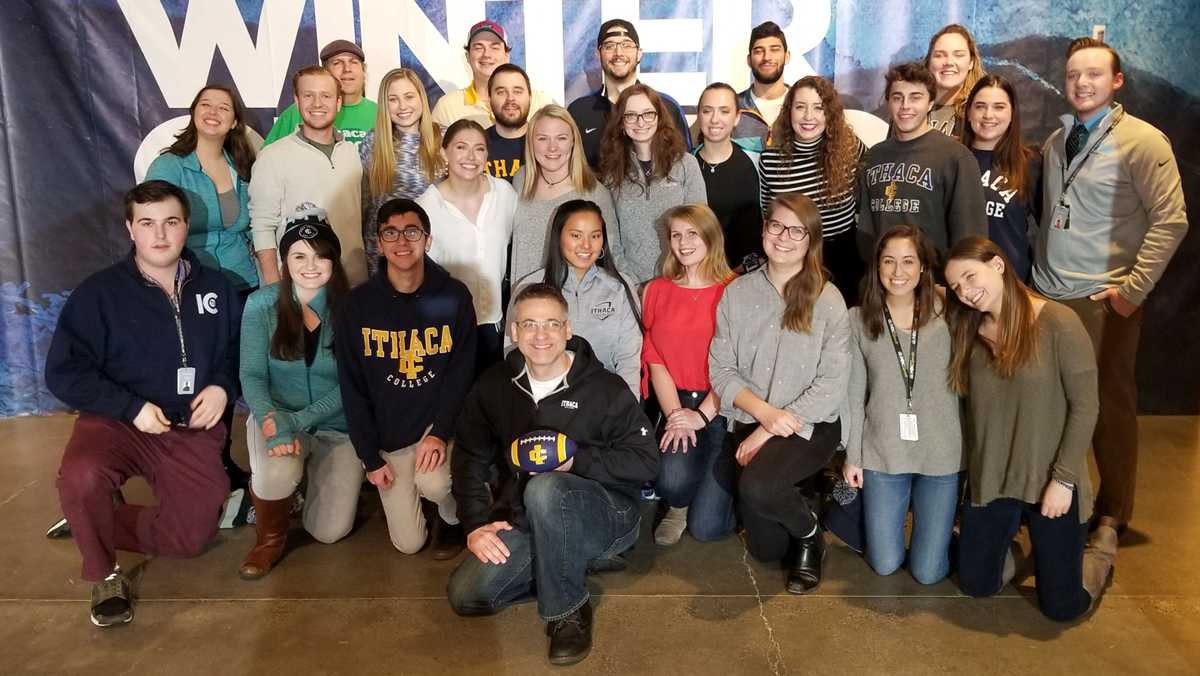 Students in Bae's program were split among the Kwandong Hockey Centre, Gangeung Ice Arena, Gangeung Curling Centre, Alpensia Sliding Centre, Alpensia Ski Jumping Centre, Phoenix Snow Park and Yongpyong Alpine Centre. The work included crowd control, assisting English-speaking fans and working at athlete and media checkpoints.
Kyle O'Brien, senior sport management major, said being at the Olympics provided him with rare opportunities.
"One of the highlights of the trip was the opportunity to work a couple of hockey games featuring the Unified Women's Korean Hockey Team, which consisted of athletes from both North and South Korea," O'Brien said. "It's not every day that you get to work an event featuring North Korean athletes, never mind an Olympic hockey game."
A native of South Korea, Bae viewed his home-country hosting the Olympics as an opportunity to not only to provide his students with strong career experience but also to expose the students to his culture.
"The reason that I wanted to create this program for our students was because the games were being held in my home country, providing me with the opportunity to assist in their education of Korean sport and culture," Bae said. "This was not only a great opportunity for our students to volunteer at the world's biggest sporting event, but to also introduce themselves to a culture that they were unfamiliar to."
O'Brien said the sport management students arrived in Korea two weeks before the opening ceremonies and had the chance to experience Seoul before starting work.
"In Seoul, we had the chance to visit a number of places, including the N Seoul Tower, World Cup Stadium, National Museum of Korea and War Memorial of Korea," O'Brien said. "On one night, we also had the opportunity to spend some time with the Globalfriends Basketball Club, which is the only team for multicultural youth in Korea."
Bae said plans are being made for sport management students to travel to the 2020 Summer Olympics in Tokyo and the 2022 winter games in Beijing.
O'Brien said having the opportunity to work at the Olympics will greatly impact him going forward.
"I think working the Olympic Games speaks for itself," O'Brien said. "It will obviously stick out at the top of a resume, but what we were able to experience goes much beyond that. The things we were able to learn from both working and watching will be extremely valuable resources for all of us in our future professions."
While Bae's program was new this year, the communication students from the college were the seventh batch the college has sent to work for NBC.
The interns who were in Pyeongchang for NBC were split among the venues and worked on the live broadcasts of the events. Emma Beltrandi, junior television–radio major, spent her time as a tape logger and runner at the hockey center and made team rosters for the broadcast. She said NBC broadcasted 26 hockey games in 12 days and she was shocked by how fine-tuned the operation was.
"Everything was very organized, and it's mind-blowing to see all of the moving parts that goes into putting on a live broadcast of that magnitude," Beltrandi said. "I'm still amazed at how much planning and organization goes into it, and the level of coordination and execution was very impressive."
Jesse Chen, sophomore television–radio major, said his time working as a runner at the Phoenix Snow Park gave him the opportunity to work many different jobs.
"I would work in the broadcast office getting start lists, making copies, building offices and assisting anyone with errands there," Chen said. "I also helped work in the commentating booth making sure the talent were okay. Other days I would go up the slopes with the utility team to help them build and install cables."
Beltrandi said getting to work on-site at the Olympics is an opportunity she will always cherish.
"This internship has been a dream of mine for as long as I can remember," Beltrandi said. "Getting to experience the Olympics on the ground is something not many people get to do, and how lucky I am to have had such an opportunity is not lost on me. I am truly grateful for this internship and know I'll carry it with me forever."