Junior outside hitter Chelsea Hayes has been a force on the court for the Bombers all season. After the Blue and Gold won the Empire 8 Conference Championship last weekend — the first time since 2005 — Hayes was named the tournament's Most Valuable Player.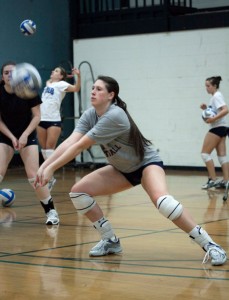 In the South Hill squad's championship match against Elmira College, Hayes recorded 16 kills on a .297 hitting percentage, nine digs and three block assists. The South Hill squad begins its push for a national title against Lebanon Valley in the quarterfinal match of the NCAA Regionals hosted by Frostburg State University on Friday.
Sports Editor Andrew Weiser spoke with Hayes about her success, winning the Empire 8 title and qualifying for the NCAAs.
Andrew Weiser: What was it like to win the Empire 8 Championship this year?
Chelsea Hayes: It was more of a respect thing. We haven't really had that respect in a while — that we were a contender that we were up there. Even though we ended up coming in second last year, we still placed lower in the rankings at the beginning of the year, so it's definitely a great feeling to be respected and play well and really be a contender again.
AW: Did it change the dynamic to go in as the No. 1 seed and play on your home court?
CH: Being undefeated at home this season is awesome, but always being the home team, having your fans, your family, everyone there to support you is beneficial in all athletics. But knowing that you're
No. 1, it's kind of an added pressure, but it's also an added confidence [because] we were seeded first but we hadn't won the title, so we were still focused on making sure we clinched the No. 1 position.
AW: What were your thoughts and feelings when you found out you were named the tournament MVP?
CH: I was shocked. I mean, it's an honor. We have so many great players on our team. That's one of the strengths of our team is we don't have huge stats, we don't put out big numbers, because we have so many different good players.
AW: Is there anything specific the team is working on this week in preparation for the NCAAs?
CH: It's basically the same. We're just concentrated on being healthy and maintaining, being well conditioned but not overdoing it so that we're not tired for competition. But it's just the same old, competition play, lots of short practices so that we're not tiring ourselves out.
AW: Is there any sense of nervousness or uncertainty, knowing that the team hasn't been to the NCAA stage since 2005?
CH: It's not so different from what we do. It's a great honor, and we're really proud of ourselves for making it this far, but in our minds, it's just another tournament. It means a lot more, but I don't think it's anything too unfamiliar for us.