A peanut butter sandwich folded neatly in a napkin rests on freshman Sharon Li's desk. She's in a quiet, simple dorm room where the walls are surprisingly bare. The only pictures that hang are of her family from back home. Looking at the pictures, you would never know that Li's home is 8,000 miles away.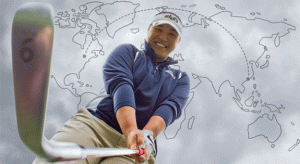 Born in Happy Valley, Hong Kong, Li came to America at the end of August to attend Ithaca College and play on the women's golf team.
When asked if she loves golf, Li pauses and grins, remembering all of her experiences playing. She picked up the game at 6 years old because her father liked the sport, and began rattling off 50-yard shots as a child.
Li said golf has been intertwined into the culture of Hong Kong because it has become a social sport that people can play well into their old age.
"Whether you are an adult or a kid, there's an 80 percent chance that people would say that they play golf," she said. "Even though facilities and golf courses are limited in Hong Kong, people still get their hands onto it."
Though she shot a 71, 1-under par, in the second round of the Empire 8 Conference Championships on Sept. 18 in Churchville, N.Y., Li said the highlight of her golf career was playing in competitions with the world's current No. 1 women's golfer, Yani Tseng, who is from Taiwan.
Li was not a stereotypical child prodigy under strict, daily regimens. She played soccer, volleyball, threw discus, shot put and threw javelin on the track and field teams at Hong Kong International School and Taipei American School.
Li said she was not upset that she missed the chance to become Empire 8 Conference Rookie of the Year after losing a three-hole playoff with St. John Fisher College freshman Alex Battle.
"It was very exciting to play her and I didn't feel bad losing to her at all," she said.
Li's record-setting performance at the Empire 8, Conference Championships helped the team to a colossal 100-stroke victory.
Head Coach Dan Wood said he was  not surprised by Li's performance at Empire 8 given her track record of success.
"She's done it before," Wood said. "She hit probably 12 greens and two or three fringes, so she had no trouble on about 15 of the holes."
Not counting the Bombers' most recent competition in Cortland, N.Y., that was shortened by rain, Li has averaged 159 strokes in three tournaments this season. Freshman Kelsey Baker, who was recruited with Li, is second on the team averaging 168 strokes.
Li said optimism was a key aspect of her golf game that helped her on that day. She said she tried to stay focused by forgetting about poor shots and just having fun playing golf.
Li's stroke is powerful and resourceful, wasting no movement. She twists minimally and swings fluently — not into the ball, but through the ball. It's a natural swing, that looks like it could be done blindfolded.
Wood said Li's talent is one that is rare in the Division III women's golf game, because she can consistently drive a ball 245 yards, which sets her up for easy iron shots.
"She has a very strong move with her swing," he said. "She's a very powerful woman to begin with. And she drives it typically 15 to 20 yards longer than most of the girls she gets paired with."
Though Li has only been on the team for a short period of time, freshman Taylor MacDonald said her upbeat personality has made a positive impression on the team.
"I love playing with Sharon," MacDonald said. "Even though she's so good and can beat all of us, it doesn't matter because she's so humble and fun to play with."
Freshmen Kayla Bledsoe and Rachel Gray, who live on the same floor as Li, recalled the day when Li walked into her room after shooting a 71 and said she played "all right," when asked how the tournament went.
Li's humor has helped her integrate into the golf team and American culture in general. She has a magnet on her dorm room door that reads "No Farts Inside The Room." Under the magnet is the same inscription written in traditional Chinese characters.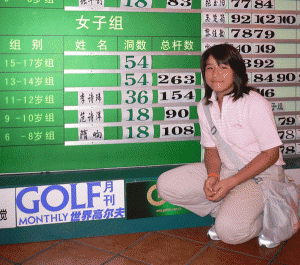 MacDonald has already invited Li to spend Thanksgiving with her family and watch the Macy's Thanksgiving Day Parade in New York City.
Li said the full American experience has been pleasant because it's more easy-going than Hong Kong. But she still misses sticky rice.
"It's not like in Hong Kong where it's efficient and you have to be really fast," she said. "You don't have to keep up with others. You do it yourself — your own way."
Wood said her smooth transition was evident on the first day of classes while Wood was walking Li to class. Li bumped into junior Joseph Lu, a former classmate at the Taipei American School who helped recommend Li to come to the college.
Recommendations from other high school friends who have come to the college such as Lu influenced Li to study at the college. She was also impressed by the exercise science program.
Though she continues to settle into college life in America, Li said she has not gotten homesick. For her, home is wherever there is a set of golf clubs and a tee box.
"I love golf, from the swing to the environment," she said. "It helps you being active, it helps your social life, it helps you make friends, and it requires mentality. The concentration required for five hours in a round helps me in every way in my life."