It doesn't matter that the Cayuga Inlet was infected with a dangerous plant this fall and the majority of the men's crew's roster is full of underclassman with little experience on the water — the team has adopted a no excuses mentality going into the 2012 season.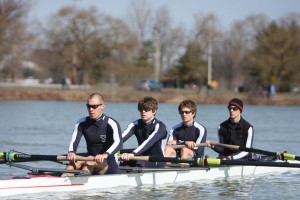 With three seniors and four juniors on this year's squad, there's a lot of pressure the team's underclassman to produce early in the season.
Senior captain Per Tvetenesterand said realizing the importance of a collective effort is essential for the novice rowers to succeed.
"When your working towards the same goal it's more about being competitive," he said. "It's everyone working together and pulling towards our goal."
Unlike other crews like Trinity College and Williams College, the Bombers do not recruit specific athletes straight out of high school to compete. Sophomore Andrew Voorhees said this advantage the opponents have gives the more diligent Blue and Gold rowers more motivation in certain regattas.
"I know I have a grudge against teams like Hobart, Williams and Trinity," Voorhees said. "It's definitely not even ground, though I like to think of us as scrappier than the other schools."
The Bombers have away regattas against Trinity and Williams scheduled for April 21 and April 28, respectively.
Unlike in season's past, the Bombers will be unable to practice on the water until they make their spring break training trip to Marietta, Ga. The hydrilla infestation in October on Cayuga Inlet limited the team's practice. The crew also could not participate in the customary scrimmage regattas in the fall such as the Head of the Fish in Saratoga, N.Y., and Head of the Charles in Boston, Mass.
Robinson said the team can only focus on the tasks ahead of it and not look back on what could have been a productive fall season.
"Every time you lose practice time, it affects you even long term," he said. "But you don't worry about things that have happened in the past."
Despite facing Division I crews and other programs that recruit, the South Hill squad still expects to win the New York State Championship Regatta on May 6 in Whitney Point, N.Y., and earn a medal at the Eastern Athletic Conference Regatta the following weekend in Worcester, Mass.
Voorhees said the crew refuses to back down against any opponent this season regardless of the stakes.
"I'm not going to take second place in any race," he said.