A third quarter completely dominated by the ninth-ranked Rochester Institute of Technology Tigers proved to be the difference in their 12-4 home win against the men's lacrosse team today in Rochester, N.Y.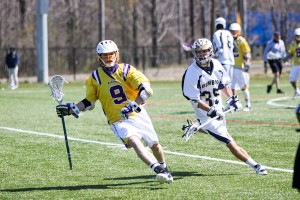 The Tigers outscored the Bombers 4-1 in the third quarter and controlled possession for most of the period with their ability to win face-offs and ground balls. The Tigers beat the Bombers 13-6 at the face-off 'X' and picked up 22 ground balls to the Blue and Gold's 14. RIT senior midfielder Jordan Collins-Hartwick and senior attack Tyler Russell each scored a hat trick for the Tigers. Russell's first goal was his 100th career goal.
For the South Hill squad, sophomore midfielder Jacob Long scored twice and added an assist.
The Bombers are now 7—4 overall and will head back to Rochester to play Empire 8 Conference leaders St. John Fisher College at 1 p.m. this Saturday. The Cardinals defeated the University of Scranton 14-5 and are 8—2 overall and 3—0 in the Empire 8. The Bombers are 2—0 in conference play.