When junior hurdler Tammia Hubbard forgot to wear her lucky wristband before competing in the Denault Invitational on Feb. 18 at Cornell University, she said she felt completely lost.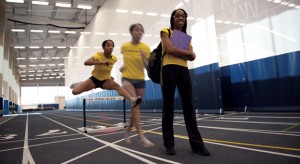 "I was so used to having it at practice, and I had been wearing it for a week straight, and then the meet came, and I didn't have my bracelet," she said.
A slim black plastic bracelet printed with the words "Strength," "Courage" and "Power" acts as inspiration for Hubbard, and she wears it every time she steps onto the track.
Assistant Coach Mary Wallenbeck took the initiative to draw the crucial words on Hubbard's wrist in lieu of the bracelet before Hubbard competed in the South Hill squad's meet at Cornell. She went on to set a new personal record of 8.40 seconds in the 60-meter dash.
The bracelet that Head Coach Jennifer Potter gave her is meant to remind Hubbard of the tenacity she brings to the track and other aspects of her life.
Hubbard has plenty on her plate. She's a student-athlete who spends at least two afternoons per week interning at 2-1-1 Tompkins, a community help hotline program that's a part of the Human Services Coalition of Tompkins County.
She works among the steadily ringing phones at the referral service as a marketing assistant and information referral specialist. Her duties involve outreach and pitching community projects, in addition to acting as an operator and navigating the expansive 2-1-1 Tompkins database.
Fran Spadafora-Manzella, the call center manager, said Hubbard's motivation sets her apart from the other interns.
"She's very flexible, and if I need something done, she's always willing to at least try to get it done or learn about how to do it so she can participate in it," she said.
Giving back to the community is nothing new to Hubbard, who attended Sacred Heart Cathedral Preparatory in San Francisco, where the motto is "Enter to learn, leave to serve." It's in this learning environment where Hubbard had her first outreach experience at a local soup kitchen.
"We were in school all day, but only a few blocks down was this soup kitchen," she said. "It was quite the experience to volunteer there. It was a reality check, mostly because it could be a reality for me."
Hubbard grew up in a neighborhood where the high school graduation rate has declined by an average of 7 percent each year since 2009 according to America's Promise Alliance, a non-profit group that helps at-risk students. Only her parents' focus on education and sports at a young age kept she and her twin brother away from trouble.
"There was unemployment, poverty and stuff like that," she said. "It was dangerous, but it wasn't a major concern because we had sports as an outlet. But violence was there, it was present."
From the third grade on, Hubbard was enrolled in private school through a scholarship from the Bay Area Scholarships for Inner-City Children Fund. Her single father applied her and her twin brother Teandre for it, and they received the scholarship until eighth grade. Teandre is currently a sophomore in the General Studies program at Skyline Junior College in San Bruno, Calif.
This past summer, Hubbard interned for the BASIC Fund, an organization which provides aid to inner-city parents who want to put their children through private schools. Working closely within the community she has lived in has helped Hubbard understand the power a positive mindset can have.
"I'm happy when other people are happy," she said. "People get a hold of the
energy and just blossom. When you're happy, your whole outlook just changes."
Senior pentathlete Emma Dewart said Hubbard is a source of humor for the Blue and Gold.
"She's a great person to go to when you're feeling down," she said. "She has a great personality, and she's extremely funny."
Though Hubbard has won state honors in the hurdles during both the indoor and outdoor seasons, Potter said Hubbard doesn't realize how talented she is.
"If I could just get her to believe how good she is — which is what we're working on — I'm really excited with what she could do this year," Potter said.
Hubbard began running on Sacred Heart Cathedral Preparatory's track team during her freshman year. Andy Chan, head coach of the men's and women's cross-country and track and field teams there, said Hubbard's crowning achievement came when she won the league championship in the 300-yard hurdles and qualified for the sectional championships her senior year. He said when Hubbard was on the team, she improved greatly from year to year.
"She could have easily not wanted to work hard or could have given up on the sport but she didn't," Chan said. "I'm really proud of her and I'm glad she's continuing in the sport."
Being on the women's track team at the college has helped Hubbard continue her volunteer work. Every year, the Bombers spend a week at the end of winter break working at Loaves and Fishes, a soup kitchen based out of St. John's Church in Downtown Ithaca.
It was important for Hubbard to give back in an environment that fostered her academic and athletic career.
"We're pretty closed off on this campus," she said. "But we have the opportunity to go into the community and give back to this place that supports our college."
She wants to continue to serve communities she lives in after graduation by becoming a lawyer.
"The judicial system is messed up on so many levels, and I just want to be able to help those that can't necessarily help themselves or don't have a strong voice," Hubbard said.
Potter said she has high hopes not only for Hubbard's future as an athlete, but also for her ability to excel in all areas of her life.
"She's going to do something bigger than we even think right now because she's very worldly and has a very open mind," Potter said. "I'm excited about her future as a person, and track-wise, I think she's finally realizing how talented she is."