On Sept. 3, Ithaca College's athletics department announced the hiring of Karrie Moore to replace Shannon McHale, who resigned as head women's lacrosse coach after four years of leading the program.
Moore, who is taking over the program after a hasty application process — McHale announced her resignation Aug. 20 — has spent the past seven seasons as a defense and goalkeeper coach for the Cornell University women's lacrosse team. Prior to coming to East Hill, Moore served two seasons as an assistant coach at Colgate University. She graduated from the University of Pennsylvania in 2006, where she was a standout goalkeeper, starting during her senior season and finishing with an 8–3 record during her final year.
Senior Writer Kristen Gowdy spoke with Moore to discuss her first head coaching job, the quick transition from East Hill to South Hill and how she plans to continue the team's winning tradition.
Kristen Gowdy: When did you find out that you were going to be taking over the program?
Karrie Moore: I found out on [Sept. 2]. The application process was really quick, you know, it was important to get somebody in here quickly, given the timing. It was nice and quick.
KG: How has the transition been for you?
KM: Today [Sept. 8] is my first day, so I'm just trying to get some logistics done. I'm really excited to be here. I think we'll be able to accomplish a lot here. I'm excited about this program and where we can take it.
KG: How do you think your previous experiences at Colgate University and Cornell University will help you with your first head coaching position?
KM: I think it helps a lot. I think, with my past experiences, I have been given the opportunity to work a lot on team culture and also on developing skills. I think I have experience with all of the things that are necessary to run a program.
KG: You were a defensive specialist, as well as a goalkeeper coach at Cornell, and you were a goalkeeper during your playing career. Is defense going to be an emphasis for you this year, and how do you plan to transition to also coaching offense?
KM: I would hope that we have a strong defense this year. I think, when you spend your career watching the offense like I did, it's not too much of a transition. It's more about making sure you're designing offenses that are something that a defense isn't going to like. They feed into each other.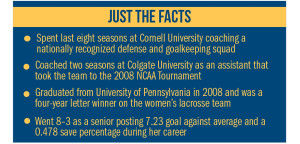 KG: Has a head coaching position been a goal of yours? How have you been preparing for it?
KM: For me, it's been a goal for most of my coaching career. I've always wanted to be a head coach. It's something I've been preparing for during my past positions.
KG: What do you think are going to be some of the biggest challenges for you in running your own program?
KM: I think mostly just the timing and getting to know the team before we start our fall practices in a couple of days. I've met with the team, and we just have to get some things finalized so we can plan our fall practices, and then we can get moving.
KG: Is there anything you hope to change about the program?
KM: This program has great tradition, and that was one of the things that really attracted me to it. It's mainly continuing those traditions and seeing what we can build on. This team has some strong goals that they want to achieve, so it's just seeing what we can tweak and change to build on that tradition.
KG: What do you think you bring to the program?
KM: Something I talked a lot to the team about is how passionate I am. I think I have the ability to connect with the team and really be passionate about what we're trying to accomplish.