After losing five games in a row, the softball team found the most opportunistic time to face Utica College, a team they have not lost to since joining the Empire 8 conference.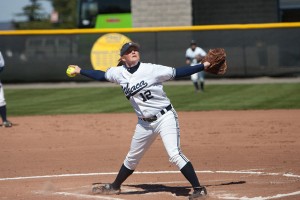 The Bombers prevailed with 4-1 and 5-0 victories against the Pioneers yesterday at Kostrinsky Field, increasing their overall record to 9—10.
Utica struck first in the ballgame, as junior outfielder Megan Matan led off the game with a double to deep center field. Matan later scored on a wild pitch from sophomore pitcher Sam Bender. This, however, would be the Pioneers only run on the day.
Bender pitched five innings, surrendering three hits with two strikeouts. She increased her record to 4—4. Sophomore Jillian Olmstead pitched the final two innings to pick up the save.
The Blue and Gold's offense did not produce early, as the Pioneers held the Bombers scoreless until the bottom of the fifth. The South Hill squad loaded the bases, and  sophomore catcher and third baseman Sydney Folk singled to left field with two outs scoring junior outfielder and second baseman Adrienne Walters and freshman shortstop Francesca Busa. The Bombers added two insurance runs in the sixth, as freshman designated player Nicole Ciricillo hit a RBI double.
The Pioneers and Bombers both went four scoreless innings in the second game until the Bombers broke the tie with an RBI single from sophomore outfielder Rachel Dell'Orto to drive in Walters. Busa then cleared the bases with a RBI double to give the South Hill squad a 3-0 advantage.
Head Coach Deb Pallozzi said good pitching allowed the Bombers to adjust at the plate and keep them in the game without having to rally from behind.
"It allowed us time, particularly since we weren't hitting early in each game, to get our feet under us and score some runs," Pallozzi said.
Two additional insurance runs in the sixth were more than enough for Olmstead, who earned the win with four scoreless innings after Bender pitched the first three. Olmstead increased to 5-6 and gave up only one hit while striking out five. She said she wanted to simplify the game and not worry about the opposing hitters.
"We really focused on location rather than a lot spin pitches because the pitches are there, but they're harder to get called strikes," Olmstead said.
The South Hill squad begins a road trip of five doubleheaders later today when it takes on Elmira College. Dell'Orto said an element of playing on the road is focusing on the team and what it can do to improve.
"We can't play the opponent, we have to play game," she said.