Bats fall silent when sophomore Tucker Healy steps on the hill. The right-handed pitcher has an ERA of just 1.48, which is the second best in the Empire 8.
In a season where Bomber pitching has been inconsistent, Healy has been a major bright spot for the South Hill squad. The sophomore has the lowest ERA and the most strikeouts per inning on the team at 1.41.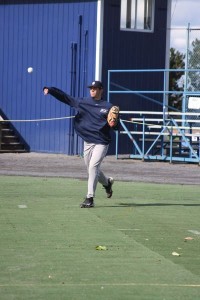 "It's really a tribute to our coaching staff," Healy said. "[Head Coach George Valesente] does great work with our pitchers."
It was a smooth transition from high school ball to college ball for Healy, who earned three varsity letters at Needham High School in Massachusetts. Healy was coached by Ithaca alumnus John Freitas '65. Healy said his high school and college coaches have had similar impacts on his baseball career.
"[Freitas] preached a lot of the same things as [Valesente]," he said. "They played together on the same team, and both have taught me the mechanics needed to be successful."
In his freshman season, Healy was named first-team all-Empire 8 after going 3–0 with five saves to go along with a 2.70 ERA in 16 appearances. Senior Mike Armstrong said Healy simply picked up where he left off at the end of last season.
"As a freshman, his impact was felt immediately," Armstrong said. "He has an explosive fastball that really seems to jump. Batters have a lot of trouble hitting it."
Healy said his fastball is his "go-to" pitch. But it was his fastball that left the only blemish on his stat line all season, a loss to the University of Rochester on April 20. Healy was charged with the loss after allowing three runs, one earned, in 2 1/3 innings of work.
"I just threw too many fastballs," Healy said. "I didn't work in enough off-speed stuff, and they started to time my fastball."
It was the only real road bump all season for Healy, who has been a catalyst for the Bombers' pitching staff, as the team ERA is nearly a full run higher than a season ago. Joining Healy out of the bullpen has been freshman pitcher Jasper Adams, who leads the team in appearances with 10.
Healy, Adams and senior Tom Fishback have been the squad's most consistent hurlers. In his first season as a Bomber, Adams has a 2.63 ERA, which is second best on the team.
"He has been a great asset to our team," Fishback said. "He's really improved and has held teams off in some big situations."
Healy's and Adams' contributions as underclassmen have been essential for the Bombers' pitching staff. With the exception of Fishback, the Bombers' starters have struggled.
After putting together solid numbers in their sophomore seasons, junior starting pitchers Dan Lynch and Aaron Sapp have struggled to find their grooves in 2010. Both players have ERAs hovering around 6.00. After combining for nine wins in 2009, the two have combined for just three this season.
Armstrong said the pitching staff has been focusing on pitch location, which has been the main cause of most of their poor outings.
"Our pitching staff has a lot of pride and has been working hard," Armstrong said. "But we need to hit too. We have lost a lot of games where pitchers have done well for us."
At just 13–13, the Bombers will need a strong finish to the season to have a shot at an at-large bid to the playoffs.
"At this point it's invaluable to have quality starts," Armstrong said. "We really need our starters to go out there and keep games in reach for us."