The sun shone on Carp Wood Field while the women's soccer team took on Alfred University on Oct. 20. Early in the second half, Alfred gave up a corner kick. As senior midfielder Julie Winn placed the ball on the right corner of the field, senior forward Rachael Palladino took one step closer to shattering the Bombers' record books.
Winn raised her hand, and Palladino sprinted toward the near post. The purple jerseys could not keep up, and Palladino jumped to head the ball into the back of the goal. Palladino flashed a smile after seeing the ball in the net and began to high-five her teammates for the 58th time in her career.
Palladino has been making an impact on South Hill since her freshman season in 2009. After setting several single-season scoring records throughout her career, she is on the verge of breaking the program record for total career goals and total career points, both currently held by Chelsey Feldman '09. Palladino has tallied 59 goals and 140 points in less than four full seasons, while Feldman scored 61 goals and 148 points in her career.
Feldman and Palladino stand at the top of the program's career scoring list. Amy Scheffer '10 ranks a distant third with 38 goals and 96 points.
Palladino and Feldman are not just connected through Bomber statistics. During Palladino's freshman year, Feldman was a graduate assistant coach for the team and worked closely with Palladino throughout the season. Feldman said she feels like a mentor to Palladino and would love to see Palladino surpass her.
"It would mean nothing more to me than for her to break my record," Feldman said. "I had my time, and the biggest form of flattery to me is for somebody to be able to break my records, especially somebody that I've worked so closely with."
Palladino and Feldman developed a strong bond during the 2009 season. After a few games into the team's schedule, Palladino and Feldman shared a pregame ritual that involved Feldman writing inspirational words — like "focus," "hustle," "power through" and "heart" — on a piece of tape for Palladino to wear on her wrist during the game.
Palladino's first collegiate goal was against the defending NCAA Division III national champion Messiah College.  Though she was unaware of it at the time, Palladino snapped Messiah's 795-minute shutout streak when she was able to score in the game's eighth minute. Palladino scored off a header from a Winn corner kick.
"I feel like it happened in slow motion," Palladino said. "Every defender is taller than me, so when that goal happened, I was just so surprised. I remember my eyes widening and thinking, 'Oh my God, I did it!' It was really exciting, and it was a fun moment."
Later that season, the Bombers hosted the Empire 8 tournament and made it to the championship. During their matchup against Nazareth College, Palladino scored her 11th and 12th goals of the season. She not only helped her team win the conference tournament that day, she also broke the freshman records for goals and points — previously held by Feldman.
Palladino said her greatest memories, though, came after the Nazareth game. Palladino and teammate Scheffer were awarded Empire 8 tournament co-MVPs. Scheffer told Palladino that she deserved the award more and gave her the plaque. Palladino also remembers Feldman congratulating her on setting new freshman records.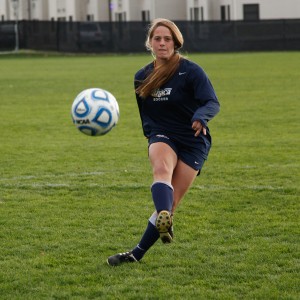 "[Feldman] came up to me after the game and told me that I beat her record, and I had no idea," Palladino said. "She was hugging me and telling me how proud she was and how much I reminded her of herself when she played."
Feldman said she told Palladino to "go after the rest of them," which is exactly what Palladino did. During Palladino's sophomore year, she set school record totals of 20 goals and 45 points.
Though Palladino has converted many goals throughout her career in a Bomber uniform, one goal stands out not because of its beauty, but because of its humor. Teammates, including Palladino, remember a "ridiculous" header she scored from 18 yards out during a game against Stevens Institute of Technology during her freshman season.
"I literally just stood there, and the ball hit off my head and went over the goalkeeper and into the net," Palladino said. "I remember just standing there and staring and thinking, 'That did not just happen,' because I had been trying so hard to score, and all I needed to do was that. That was probably the one [goal] that has the best story ever, and I'll never forget that."
While an unexpected header may have been one of the most fun points of Palladino's career, one of her most cherished goals came against Illinois Wesleyan University in 2011 — the first time she was able to score during the NCAA tournament. After traveling to Ada, Ohio, to compete in the first round, the Bombers found themselves trailing the Titans 1-0 at halftime.
In the 71st minute, the Blue and Gold offense applied high pressure to force a defensive error. After then-sophomore forward Ellyn Grant-Keane was able to deflect the ball right outside of the box, Palladino intercepted the ball and ripped a low left-footed shot into the opposite right side netting for her 45th career goal. Palladino immediately turned around to hug Grant-Keane and then the rest of her teammates in celebration.
"That was a huge hump to get over," Palladino said. "I remember my first two years I just, for some reason, couldn't get that ball in the net, and when I scored that first one to tie it up against Illinois Wesleyan, I was like, 'Finally!''
The game was forced into overtime, where the Bombers won after Palladino forced an own-goal. Head Coach Mindy Quigg said the goal shows the impact Palladino has on the field.
"When she has possession of the ball inside the 18, they are in complete panic mode," Quigg said. "That [own-goal] was created because of that fear that [Palladino] puts on people."
Palladino has put away 12 goals so far this season in helping the Bombers achieve their best start to a season with a 16–0–1 record. Though Palladino said breaking Feldman's records would be a huge honor and something she will be proud of, she said it is not her priority. For Palladino, her team comes first, and scoring goals is part of her job as a striker.
"I don't really talk about [the record] that much, because I've never kept track of goals in my life," Palladino said. "I feel like it just gets in the way of why I'm actually playing the game. It's not to beat records. I just go out there and play as hard as I can, because I owe that to my teammates."