Everything that Meghan Musnicki '05 had worked for since her freshman year of college all comes down to this race at Eton Dorney in London: six minutes, just over 200 strokes. Before the most important race of her life, Musnicki calms her nerves by thinking about her teammates, eight women bonded and in sync with her, a team that she wouldn't want to race without. She thinks of her father, Bill Musnicki, who died of a heart attack her freshman year of college. She thinks of tireless hours of practice and preparation leading up to this moment. She is prepared.
"Australia, the Netherlands, the United States…" the official calls out each nation before the race.
The opening beep finally relieves the tension. The first 10 strokes are an all-out sprint where instinct, muscle memory and adrenaline take over. After a minute of blinding exertion, the U.S. boat pulls forward into the lead.
More than 30,000 spectators cheer loudly for their countries with 250 meters to go. American oars break the water's plane as the coxswain tests the limits of her vocal chords. The race atmosphere is pandemonious, but it doesn't break Musnicki's rhythm.
Six minutes and 10 seconds after the beep sets things in motion, an air horn signals that the U.S. has won. On Aug. 2, after years of hard work, Musnicki can finally call herself an Olympic gold medalist — a far cry from when she first strapped into an erg indoor rowing machine nine years ago.
Musnicki said she felt one of the most basic emotions when she realized she had won gold.
"It was pure joy," Musnicki said. "You train for a long time, six, eight years to kind of reach the pinnacle of your sport, which is winning an Olympic gold medal, and to be able to achieve that goal is a phenomenal feeling."
Musnicki started her collegiate career at St. Lawrence, where she had originally intended to join the basketball team. Nick Hughes, St. Lawrence's crew coach, spotted her and asked her if she would like to try rowing. Though she hadn't had any idea what rowing was, Musnicki said she fell in love with the sport.
After completing her novice year at St. Lawrence, Musnicki transferred to Ithaca College, where she finished her collegiate career with back-to-back national championships in 2004 and 2005.
"[Ithaca] introduced me to rowing," Musnicki said. "It's where I really started to enjoy it. Rowing in college here was a great experience."
Becky Robinson, who has coached at Ithaca for the past 18 years, named Musnicki a captain her senior year, which is something Robinson said really helped her grow into a more comfortable and confident leader.
"Over the course of a year she grew a lot in that leadership role," Robinson said. "I really saw her change and improve [her senior year] by developing that confidence."
Despite the success Musnicki enjoyed as an upperclassman, she said she thought her rowing career was going to end after graduation.
"I didn't really graduate college thinking I was going to row beyond it," Musnicki said. "Had I not had such a good experience at Ithaca, in the later years I probably wouldn't have decided to try it again."
Robinson said there weren't as many doors open for Musnicki in her post-collegiate career as there might have been if she had gone to a Division I school, where students attend to be athletes and academics come after performing in your sport. Robinson also said Division I rowers train at almost a national team level, training two to three times a day, every day. At a Division III school, rowers usually train once a day 6 days a week with a two-a-day once or twice a week.
"From the being recognized standpoint, and from the coaches recognizing her, it was absolutely a challenge because that's not the direction they're looking," Robinson said. "They're looking at the Junior National team and the big college programs. They're not looking in the direction of Division III."
Musnicki was first noticed at the 2006 C.R.A.S.H-B. Sprints World Indoor Rowing Championships in Boston, Mass., and pulled a top-25 time of 7:09.80 in 2,000 meters on the erg. Her time was so good, in fact, that she was noticed by a coach on the national team. Musnicki was sent to different development camps where she trained with other Olympic prospects. She eventually rose to the starting rotation and captured gold medals in international competitions in 2010 and 2011.
When Musnicki discovered she had made the U.S. Olympic 8 earlier this year, she said she was ecstatic, but at the same time she knew making the boat was only the first step.
"I hadn't come this far to just make the boat," Musnicki said. "We all train so hard to go to the Olympics and win a gold medal. Making the team was like being able to check that one thing off the list and move on to the next goal that you're trying to achieve."
Because being a rower is now Musnicki's full time job, she said, training for the Olympic games with her teammates was much more intense than her training on the Cayuga Inlet.
"Leading up to the Olympics, we were training seven days a week, two, three, four times a day — not all on the water, but doing different things," Musnicki said.
In late July, Musnicki and her teammates arrived at the Olympic Village. Musnicki described the village to be similar to a college campus, but filled with elite athletes. The streets were lined with white dorm-like buildings six to eight stories high, and every country had its own area in the village, with national flags hanging outside.
Musnicki said the village had one giant dining hall. When she walked around, she said, she would see some of the Olympic greats like Mo Farah, Ryan Lochte, the "Fierce Five" U.S. gymnasts and Michael Phelps.
"It was amazing for me to think that there were thousands of people that are at the top of their sport all in one place," Musnicki said.
After the Olympic Closing Ceremony on Aug. 12, it was time for the U.S. rowers to show off their gold medals back home. Musnicki said the reception coming back to the states was unreal. When she returned, her hometown of Naples, N.Y., held a parade for her.
"It's a town of about 2,000 people, and I swear all 2,000 were out," Musnicki said. "It makes you feel really good and really special that all of those people are behind you and are supporting you the whole way."
Musnicki has been thrown into a whirlwind of newfound fame, including an appearance on the Today Show and a visit to the White House on Sept. 14. While Musnicki has enjoyed the support, she also said sometimes the media attention can be exhausting.
"It's something that I'm not used to at all," Musnicki said. "But it's fun because the sport of rowing doesn't get a lot of attention. So if there are people who want to talk to me, I really want to try and talk to them to kind of get the sport out there if it's going to help progress it, for not just for athletes right now but for athletes in the future."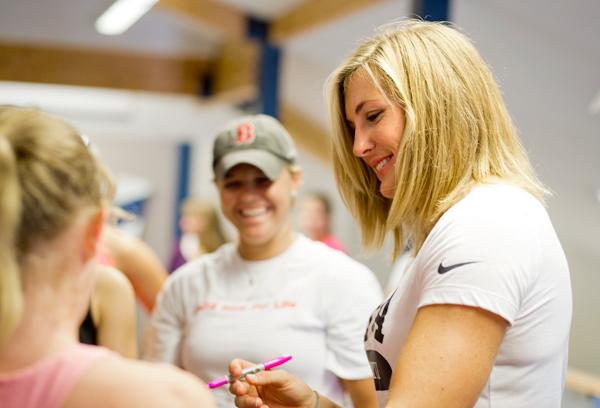 On Sept. 8, Musnicki visited the college's crew and their new boathouse to give them inspiration for the upcoming season. She said she was happy to see how far not only the college's crew program has progressed over the past few years, but also how far the sport itself has progressed.
Musnicki answered questions for the women's team about what her experience was like for training and racing at the Olympics. She talked about her teammates in the Olympic 8, what some of her favorite workouts were during training and the dubstep music she likes to listen to while she trains.
For sophomore Zoe Rheingold, a current member of the college's crew, the most memorable story Musnicki shared was how the Olympic champion dealt with a coach's decision before the New York State Championships in her junior season.
"She had been in the first [varsity] boat for a while and then actually got moved to the second [varsity] boat, which she wasn't very happy about," Rheingold said. "She told us that just because you have setbacks doesn't mean you can't succeed. She was just an average person who just decided that she wanted to win and she wanted to work hard, and that if you're willing to make sacrifices anyone can really do it."
Rheingold said meeting Musnicki at the beginning of her first year as a varsity member inspired her and her teammates to set goals for themselves.
"Crew is really tough at times, and I think a lot of people start thinking, 'This is so hard, why am I doing this?'" Rheingold said. "I think a lot of us can start thinking back to what she said and realize that all our hard work is going to pay off."