"Sticks up, ready, go!"
A man in a swim cap, mask and snorkel yells the opening command, and the calm surface of the Athletics and Events Center Pool is suddenly broken by the activity of thrashing arms and legs. Men and women scramble with small, handheld sticks to gain possession of a plastic puck filled with lead.
As the puck slides around on the pool floor beneath them, the players try to flick it into small metal goals at each end and crash into against each other in a tangled knot of arms, elbows and legs before intermittently coming up for air.
This is underwater hockey, also known as octopush, a sport invented in 1954 by British scuba instructor Alan Blake to help improve his students' snorkeling ability. The sport then spread to Canada and the U.S. and is now played all over the world.
In 2007, Meghan Cerveny, a former Cornell University employee who had previously played the sport for USA Underwater Hockey, brought it to Ithaca with the creation of Ithaca Underwater Hockey at Cornell.
Two evenings per week, Cornell graduate students and members of the local community gather in a small swimming pool at Cornell's Teagle Hall for practice. Here they enjoy a sport that combines the traditional elements of ice hockey — like sticks, a puck and two-minute penalties — with underwater elements like snorkels and bathing suits.
Laura Lange, a fifth-year graduate student at Cornell and president of Ithaca Underwater Hockey, said breath control is one of the most important aspects of the game.
"Once you dive down to reach the puck, the snorkel fills up with water," Lange said. "So you have to have enough breath to stay down long enough to play and then to blow the water out of the snorkel once you return to the surface."
The members of Ithaca Underwater Hockey have been trying to attract members and teach the game to a wide range of potential players but are limited by their facilities at Cornell. Because Ithaca College has an Olympic-sized swimming pool in its Athletics and Events Center, Ithaca Underwater Hockey's officers want to bring their sport to the college as well.
"It's a perfect pool, five meters by a yard, so it's the perfect size," Alessandro Farsi, vice president of Ithaca Underwater Hockey and a fourth-year graduate student at Cornell, said.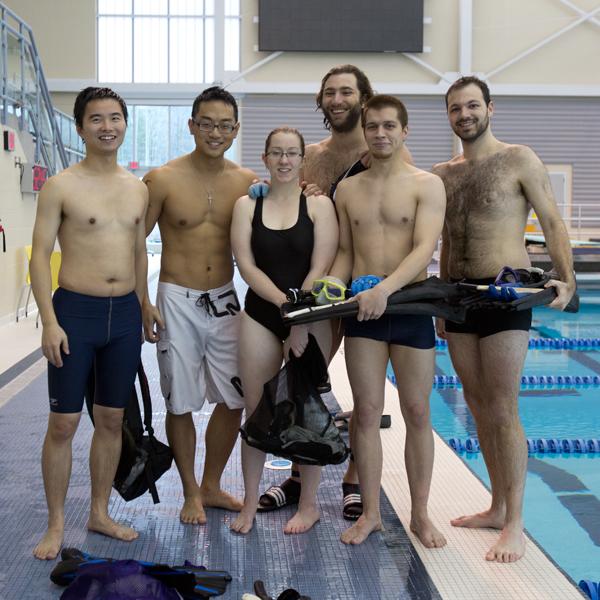 Farsi said they would like to stage some underwater hockey clinics at Ithaca College, but he said they would first need to build up interest on campus, which has no underwater hockey presence.
"It would be nice to use [the A&E Center pool] for special events," Farsi said. "The problem is finding people who like to play the sport because if you have enough people who want to do that, they can set up their own student association."
With a larger pool, the team hopes to increase its numbers. Individual players on the team like Farsi and Lange have played on other teams in tournaments against schools like Penn State, but the Cornell group has never been large enough to field a team in competition. There are 63 club teams in the U.S. listed in Underwater Hockey Tourist, an informational site about the sport.
While it has been difficult for Ithaca Underwater Hockey to find and maintain a roster, the number of players on an underwater hockey team is smaller than an ice hockey team. Ten players are allowed per squad in underwater hockey as opposed to 19 or 20 for an ice hockey team.
The smaller rosters play an important role because only six players on each team are allowed in the pool at a given time. However, with the smaller roster, substitutions are much more frequent, which can factor into a team's game strategy.
"Sometimes the attackers are substituted more often than defense because they need to have a very quick rush to the goal to score," Farsi said. "Other times you use the field and play different sides, on the walls or playing the middle, but there's not any one strategy that wins the games."
Like many of the club's members, Farsi said he first began attending practices because he thought it was such a bizarre idea, and he had to find out what it was about.
"Of course, I was attracted by the silliness of the name underwater hockey," Farsi said. "I thought it was one of those very fun, ridiculous activities, and then when I tried it, I started really having fun [with it] as a game."
Not everyone in the club joined just for laughs, though. Vincent Kiernan, an engineer at Global Tungsten and Powders Corp. in Towanda, Pa., first began playing the sport competitively as an undergraduate student at Georgia Institute of Technology and joined the Cornell club when he moved north.
Kiernan hopes that the Cornell club will expand and eventually start playing competitively. He said he thinks that others would enjoy the game because of the parity it presents.
"The fact that you have to hold your breath, it kind of puts most people on equal playing fields whether you're brand new or whether you've been playing for a long time," Kiernan said.
Lange said underwater hockey allows her to use the skills she developed as a competitive swimmer in high school and college.
"I used to swim in high school, and I did synchronized swimming in undergrad, so it's kind of like putting the two together," Lange said. "[It combines] the speed of competitive swimming and playing on a team."
While they have never been able to field a full team, Lange said she and her fellow club members are still trying to make attending practices one of their priorities.
"Over the years, I have made it a priority to be here," Lange said. "This is something that I've set aside time for because if you don't have fun, you're going to go crazy."