The women's basketball team (24—5) suffered a 55-51 defeat at the hands of Bowdoin College (21—7) last night. The loss ended Ithaca's season in the second round of the NCAA Championship Tournament, while the Bowdoin Polar Bears advanced to the Sweet 16 for the third consecutive year.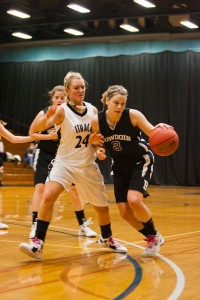 It took an offensive rebound and put-back by Polar Bears senior guard Ellery Gould with 34 seconds remaining to hold off a late Bomber surge. Gould finished the game with 11 points. In a game that was a gritty, defensive battle, Gould's play proved to be the difference-maker as time was winding down.
"[Senior guard] Jill [Henrikson] had a great drive and I crash the boards every time — that's what I do," Gould said. "I got the rebound and I just put it up as quickly as I could."
Prior to this play, the Polar Bears and the Bombers fought in a seesaw game that produced 17 lead changes and was tied on 10 different occasions. Bowdoin established its largest lead of the game, 51-45, with 2:27 remaining in the second half after a made free throw by Henrikson, who scored a game-high 18 points.
Henrikson's hard drives to the rim resulted in her scoring half of her points from behind the charity stripe. Bowdoin Head Coach Adrienne Shibles said many of Henrikson's scoring opportunities were by design.
"She makes good decisions with the ball," Shibles said. "That was a decision that we made down the stretch — to get the ball in her hands to create offense for herself and for her teammates."
The South Hill Squad knotted the contest at 51 on the strength of junior forward Devin Shea who lead the team in scoring during the game with 14 points. But in the end, Head Coach Dan Raymond said Bowdoin made a few more key plays to emerge victorious.
"They went to the basketball and we didn't quite get the position that we needed to," Raymond said. "We just couldn't make the shots that we needed to toward the end."