The women's basketball team (15–3 overall, 7–0 Empire 8) used a suffocating defense to shut down visiting Utica College (7–11 overall, 2–5 Empire 8) in a 61-29 win tonight.
The Bombers held Utica scoreless for the first 10 minutes of the game and held the Pioneers to just 11 percent shooting in the first half. The Blue and Gold forced 24 Utica turnovers and committed just seven turnovers themselves, setting a program record for the fewest in a game.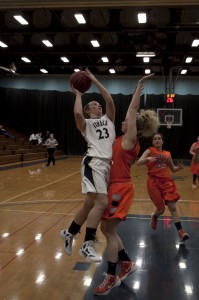 The South Hill squad also forced the Pioneers to commit five shot-clock violations in the first half and registered a season-high 18 steals. Utica went just 2 for 17 from beyond the three-point arc.
Head Coach Dan Raymond said his team was successful in taking away Utica's preferred scoring option.
"We defended exactly the way we wanted to in the first half," Raymond said. "We didn't let them look inside for [Utica junior forward Megan Fiore] and didn't let her get any open looks. We denied everything and they were real tentative to shoot from the perimeter."
Sophomore Jennifer Escobido led the way offensively for the Bombers by tallying her sixth career double-double with 14 points and 10 rebounds. She said the squad's post players were able to take away Fiore's preferred moves in the paint after watching game tapes before tipoff.
"I thought we had really good defense, especially on Fiore," Escobido said. "She wasn't able to do anything."
The Blue and Gold led by as many as 37 points in the second half. Junior forward Elizabeth Conti said the team used the latter stages of Tuesday's contest to improve upon certain aspects of its game for the end of the season.
"We keep goals for ourselves and we try not to look at our opponent and the scoreboard," Conti said. "We try to meet those goals so that when we do finally get to the tournament we'll be ready for when the competition gets tougher."
With tonight's victory, the Bombers improved to 38–1 in Empire 8 Conference games since the beginning of the 2009-10 season.
Next up for the South Hill squad is a rematch with Stevens Institute of Technology at 6 p.m. Friday in Ben Light Gymnasium. The Bombers defeated Stevens on the road by a score of 48-37 on Jan. 14.