The women's crew hosted the University of Rochester and Rochester Institute of Technology yesterday on Cayuga Inlet, emerging victorious in three of four races.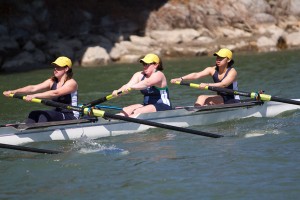 After opening the season last weekend against Marietta College and William Smith College, the Bombers were looking to make some changes heading into this week in order to improve their results. The most major of these changes involved altering the their boat lineups and finding ways to compensate for injuries that several rowers have suffered in the past week.
While working with several entirely new lineups, the Blue and Gold also faced a challenge in yesterday's weather conditions. Strong winds on the inlet made the course slightly more challenging than usual, but sophomore Kelly Parker, who coxes the third varsity 8 boat, said that the squad has had the benefit of practicing in windy conditions this spring.
"Today's races were really tough in the wind, but with the wind Ithaca's been practicing in, we were able to push through it even though it felt heavy and strong."
The second varsity 8 finished with a time of 8:21.64, cruising to a win and completing its race nearly thirty seconds before Rochester. The first varsity 8 boat came in second place to Rochester by a margin of only four seconds, ending its race with a time of exactly eight minutes.
The Bombers' novice 8A boat posted a time of 8:32.5 in its race, coming in far ahead of Rochester's time of 9:04.5. The novice 4A boat finished at 10:11.4, almost two minutes fewer than Rochester's third-place time of 11:57.2.
Junior Madison Vander Hill, who rows in the first varsity 8, said she's confident in what her boat will be able to achieve moving forward from this week.
"We had a couple shifts in the lineup, but the changes we made have made the boat really set and powerful, and we've made improvements from week to week," she said.
As the team begins to focus on next week's regatta, sophomore Lindsey Miller, who coxes in the second varsity 8, said the South Hill squad will keep this week's success in mind.
"Last week we had the confidence and we fell a little short, but this was a good race," she said. "Going forward we're going to take it and run with it."
The women's crew returns to action at 11 a.m. on Saturday against Skidmore College and St. Lawrence University on Cayuga Inlet.