The women's track and field team took first place out of six teams at the Empire 8 Conference Outdoor Championships yesterday in Butterfield Stadium with a score of 317.5 points.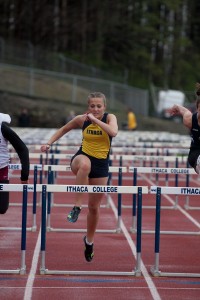 The Bombers earned their sixth consecutive conference title by scoring 218.5 points more than the second place Utica College. They also earned 11 Eastern College Athletic Conference qualifying finishes and one school record.
Junior Amanda Rissmeyer earned Empire 8 Women's Field Athlete of the Meet after scoring 26 points for the team and qualifying for the ECAC meet in the high jump with a leap of 1.58 meters.
Rissmeyer said she was concerned with how she would perform because of the rainy conditions and did not expect to receive the award.
"I did not know what to expect yesterday because the weather was going to be a huge factor in the way I was going to compete," she said. "Overall I feel as though I did well, but I was not expecting that kind of recognition, so it was a huge honor."
Senior Jessica Hoeffner rewrote the college's record books again, beating her own mark in the hammer throw with a toss of 50.45 meters. Hoeffner also took first place in the discus throw with a 37.14-meter hurl to meet the ECAC-qualifying standard. Sophomore Elaine Abdulky followed Hoeffner in second place with a throw of 34.95 meters.
Hoeffner said she was excited about the outcome of yesterday's events because she had been struggling.
"It feels really great to hit the 50 meter mark again because I haven't been there in a while, and to break my record was even better," she said.
Junior Jenn Randall reached the ECAC-qualifying time with her first place finish in the 800-meter run, and she was followed by freshman Alexa Rick for second place.
Senior Ashley Dlubac placed first in the javelin, throwing 38.39 meters, while senior Kate Middleton took first place in the shot put with a 12.06-meter heave.
Seniors Molly Quinn and Heidi Baumbach took first and second place respectively in the 1,500-meter run, Quinn crossing the line at 4:56.94 and Baumbach at 4:57.02.
Senior Julie Orlando said the South Hill squad was happy with its performance and hopes to grow even more as they enter the postseason meets.
"We made the best of what we had today and got more girls to qualify like we wanted, so hopefully we will continue to come out strong," she said.