Digital Instruction and Information Services said it has resolved the network issues that had been affecting Ithaca College systems and Internet services since March 4. DIIS representatives suspect the cause to be hardware issues from outdated equipment.
DIIS first acknowledged the network issues in a tweet March 6, stating the service desk had received "multiple reports" of slow Internet connection. However, David Weil, director of engagement and implementation for DIIS, said he believes the problem started late March 4, but DIIS did not receive reports of problems until March 6.
Weil said they believe the issue is related to hardware, specifically outdated devices that were scheduled to be replaced in summer 2015 and were not. He said this equipment had originally been scheduled for replacement over spring break.
"In some respects, we have been driving an old car, just hoping it would get us to the last mile," Weil said. "What we are experiencing is being exacerbated by the fact that it is older gear that's in there that has to be replaced."
The impacted systems included the college's home page, www.ithaca.edu; myHome; myIthaca; and Sakai, among others. Access to the college's systems was also limited off campus. Email notifications from the IC Workflow tool, Test Accommodation Requests, Parnassus workflow and Intercom Roundup may also have been delayed as a result of the network issues.
DIIS was working to further isolate the exact cause of the network issues. At 2:35 p.m. March 8, DIIS scheduled a brief network outage to swap some equipment, Weil said. However, the results of this work are currently unknown.
Weil said issues with Sakai and other cloud-hosted services were caused by the Netpass login system, which is hosted inside the college's network. He said DIIS had believed the issue was related to the connection between the college network and the outside Internet. The IC Airnet Secure Wi-Fi network is inside the college's network, while the IC Airnet and myResnet Wi-Fi networks are outside. Users may have experienced problems connecting to on-campus services from off campus when they were connected to IC Airnet or myResnet.
Weil also said there were problems authenticating to the IC Airnet Secure network, so DIIS worked with Aruba Networks — the external vendor that provides these devices — to fix the issue.
Due to the network issues, VIC Radio —  the college's Internet-only radio station — was unable to broadcast.
"VIC Radio has been out of commission since a little before 11 Friday night," said Christopher Wheatley, manager of TV and radio operations. "It's an embarrassment."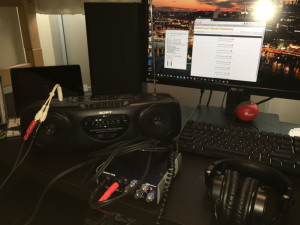 WICB — the college's student-operated FM radio station — was also unable to broadcast Web streams through its website, app and iHeartRadio, Wheatley said. Over the weekend, WICB Web Director Aaron Zufall rigged an FM radio in his dorm room and connected it to the WICB stream through his personal computer, re-enabling one of their broadcast methods.
WICB Station Manager Sean Carney said around 30 percent of WICB listeners stream the station over the Internet from all around the country but were unable to listen to broadcasts due to the issues.
Wheatley said DIIS responded by apologizing. However, DIIS could not resolve the problem.
Freshman Alexis Liberatore also experienced problems beginning March 4 in classes due to the network issues. In three of her courses, professors sent emails out to the class regarding the disruptions and how that might affect assignments.
Liberatore said she was unable to access notes on Sakai to study for a midterm March 8. She also could not complete several assignments for Introduction to Photography.
Liberatore and most of the photography class could not access Dropbox in order to download and submit photos for three assignments, causing the professor to postpone the assignments completely.
"I am trying to do notes and still trying to study for midterms, and it's still not working," Liberatore said. "Now I have more professors from more classes emailing everyone about it."
At 2:30 p.m. March 8, Weil said he did not have a time estimate for when the network would be fixed, although DIIS had "at least a dozen" or so people working on the issue.
"We are actively working on it. … Additional resources are coming on campus to help with us this afternoon. We are trying to swap out some equipment … so there's a lot of activity that's happening," Weil said.
By 7:30 p.m. March 8, DIIS had emailed a help desk news alert to subscribers. DIIS stated: "As of approximately 6:00 p.m. tonight, all indications are that the network issues are resolved. We will continue to monitor throughout the evening, and a formal 'all clear' message will be sent to the campus community early tomorrow morning.
Additionally, an Intercom message posted around 10 p.m. March 8 stated DIIS "resolved the issues with the network and restored all functionality."
According to the message, all network services, including www.ithaca.edu, myHome, myIthaca and Sakai "should be accessible as normal from on-campus wired and wireless networks and from off campus."
"The primary cause of the network service disruption was that two separate network components experienced hardware failures," the post stated. "We continue to evaluate other components and monitor network performance."
This post was updated March 8 at 10:30 p.m. with comments from DIIS and students.