Football
For the football team, the focus now shifts from the Cortaca Jug to a bigger challenge — the NCAA tournament. The Bombers begin their quest for a fourth National Championship on Saturday as they host the Framingham State University Rams at Butterfield Stadium at noon.
The Bombers (8–2) are in their first playoff game in five years, while the Rams (9–1) are only making their second tournament appearance in program history. The Rams played in their first-ever NCAA tournament game last year, losing to SUNY Cortland 20–19. The Bombers lost to SUNY Cortland on Nov. 16 in the 55th annual Cortaca Jug game.
Senior running back Melikke Van Alstyne leads the Framingham offense. Van Alstyne surpassed the 6,000-yard mark for career rushing yards in his team's 36–0 win against Worcester State University on Nov. 16. He faces a Bomber defense that has given up 1,088 rushing yards throughout the entire regular season.
In order to stop Van Alstyne, the Bombers will rely on graduate student linebacker Will Carter. Carter leads a linebacking corps dealing with injury problems. Senior Jake Santora and graduate student Josh Duggan suffered season-ending injuries two weeks apart. Senior Brandon Cheeseman and junior Marc Recio each played at middle linebacker during the team's loss to Cortland on Nov. 16.
The Rams have also had injury concerns, as Van Alstyne is the only skill-position player on offense to have played in all 10 games for the Rams this season. Sophomore quarterback Matthew Silva is a mobile quarterback, but he has only 12 carries since missing the Rams' win against Plymouth State University on Oct. 26. Silva, who was out with an injury, has had more success passing the ball in the previous three games since returning Nov. 2, as he has thrown for 831 yards in that three-week span.
The Blue and Gold will need their secondary to rebound after it was torched by Cortland. After recording an interception in each of the season's first eight games, the secondary has failed to record an interception in the last two games. If the Bomber linebackers and secondary perform to their capabilities, they will be in a good position to win their first playoff game since Nov. 29, 2003, when they defeated Montclair State University 33–13.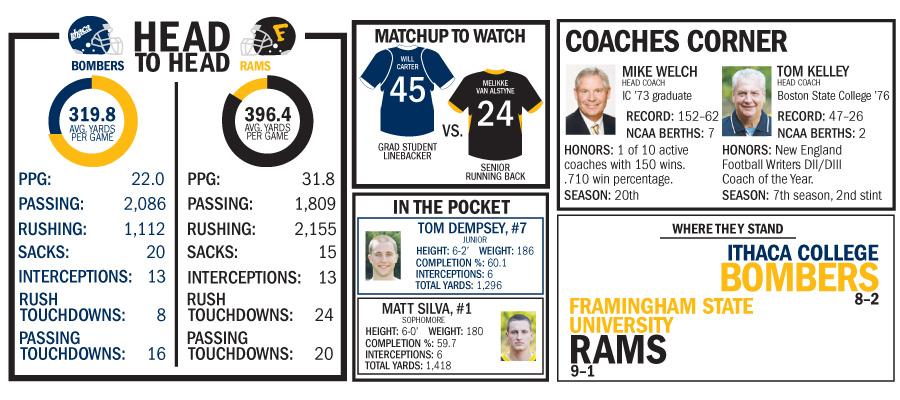 Women's Soccer
The women's soccer team has beaten three nationally ranked teams already this season, but its biggest test may be Saturday when the Bombers face No. 8 Messiah College in the Sweet Sixteen round of the NCAA tournament next weekend.
The Bombers will travel to host William Smith College to play Messiah (20–2–1). The Falcons are looking for a three-peat as national champions, as they won titles under head coach Scott Frey in both 2011 and 2012. Messiah was the national runner-up in 2010 and has established itself as a Division III women's soccer powerhouse by also winning national championships in 2008 and 2009.
Ithaca, meanwhile, is looking for its first women's soccer national title since 1991, as it heads to its third straight Sweet Sixteen. If the Bombers should beat Messiah in the Sweet Sixteen and also win on Sunday in the Elite Eight round, the team will make its first run to the Final Four since 2011.
Sophomore forward Kelsey King, who has netted 14 goals on the season, leads the Bomber offense along with senior forward Ellyn Grant-Keane and junior midfielder Jessie Warren, who each have a team-leading five assists. Grant-Keane is also tied with senior midfielder Amanda Callanan with five goals on the season.
But for head coach Mindy Quigg, defense will be key in the game against Messiah. The Blue and Gold have been stellar defensively, allowing just eight goals in 20 games played so far. The Bombers start three seniors in Anna Gray, Alex Liese and Meredith Jones and Empire 8 Tournament MVP freshman Aimee Chimera on defense. In the NCAA tournament thus far, the Blue and Gold defense has not allowed a goal, shutting out both Penn State–Behrend and Rowan University.
The Falcons will counter the Blue and Gold's defense with a dangerous offensive attack, which is led by sophomore Nikki Elsaesser, who ranks 17th in the nation in goals scored with 20.
"We need to disrupt their midfield and hold [Elsaesser] without letting her turn," Quigg said. "They're a very focused, athletic, poised and composed team. We are going to have to play well to beat them, and they are going to have to play well to beat us."