Six Ithaca College students delivered a petition with 468 signatures from the campus community, showing their support for part and full-time contingent faculty unionization, to Nancy Pringle, senior vice president and general counsel for the Division of Human and Legal Resources, on April 27.
Students intended to deliver the petition during a meeting between the existing part-time faculty union and Pringle during ongoing negotiations at noon. However, due to a time miscommunication, the meeting was scheduled for later, and the students continued upstairs to the third floor of the Peggy Ryan Williams Center, where Pringle and other members of the administration were meeting in a conference room.
Pringle exited the meeting as the students waited outside the conference room. Junior Taylor Ford handed her the petition, which voiced the students' collective support for contingent faculty unionization and their hope that the administration would "do the right thing."
"I can assure you we are conducting ourselves as we are required to under the law right now," Pringle said to the students.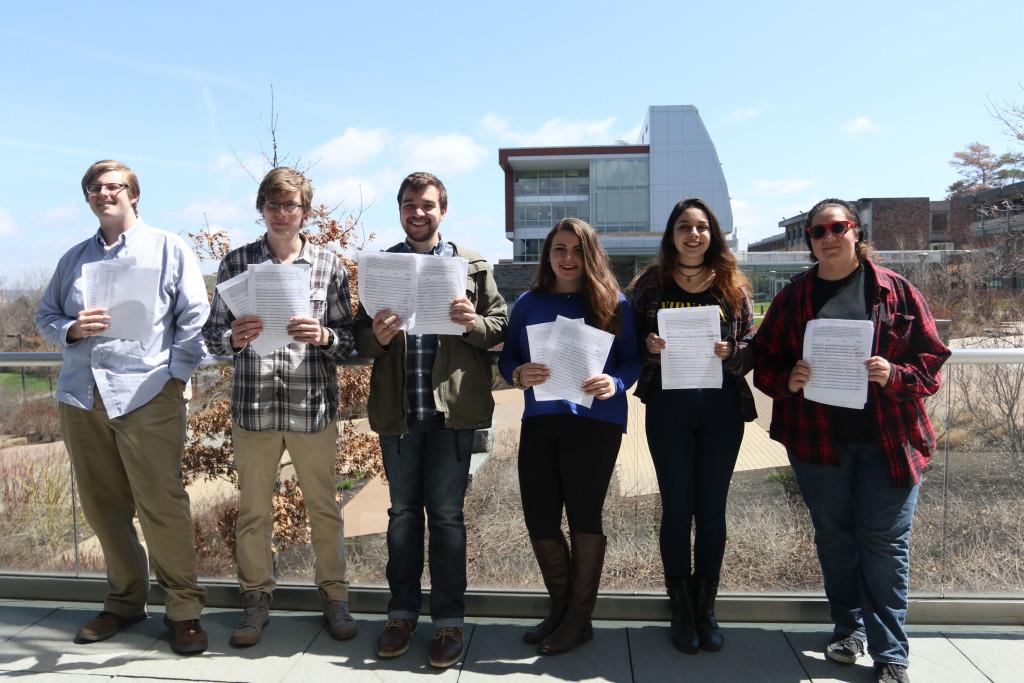 This comes three weeks after the administration denied a request by full-time contingent faculty to join the existing part-time faculty union as a collective bargaining unit April 7.
The six students said they chose to deliver the petition at this time to bring awareness to the efforts of the full-time contingent faculty.
"We want to demonstrate to the administration that students care about their faculty and that we are paying attention to this process and watching its outcome," Ford said. "We care deeply about these people, so we want to do everything we can to support them."
Since full-time contingent faculty members were denied unionization, they have held a teach-in and two informational meetings to organize student involvement. Ford said about a dozen students have attended the two meetings.
Junior Peter Zibinski said the goal was to reach 500 student signers on the petition by educating the student body about the issues of contingent faculty on campus. Students shared facts on social media, asking for signatures.
"I believe that our teachers' working conditions are our learning conditions," Zibinski said. "I've had a lot of meaningful relationships with part-time faculty. … I've had too many professors who it's like their first and last time teaching at Ithaca College. … It affects my education, and it affects their life."