The tunnel under the stadium was dark, though not the ominous kind. Dressed in her Bahamas colors — bright yellow and aqua — Emily Morley '16 waited. She waited to hear countries chanting and a stadium full of cheers. She waited to walk into the famous Maracanã Stadium, which highlighted Rio de Janeiro's vibrant culture with a spectrum of colorful lights and music. Some of the 10,000 elite athletes were taking photos and videos on their phones, but Morley said she avoided doing so because she wanted to absorb every single moment. After all, this is what she had been waiting for.
In this moment, Morley didn't think about the fact that her arrival in Rio was not the smoothest trip after multiple flight delays and cancellations, or that she had to borrow New Zealand's oars for practice because her oars arrived two days after she did on the top of a minivan from São Paulo, which was a five-hour drive away. Instead, all she thought about was how far she had come in a matter of months. All her extra workouts — her added physical and mental training with her teammates — had been worth it, she said.
"This was when it hit me that I was competing in the Olympics," Morley said. "Representing my country while walking in was a feeling I hope I never forget."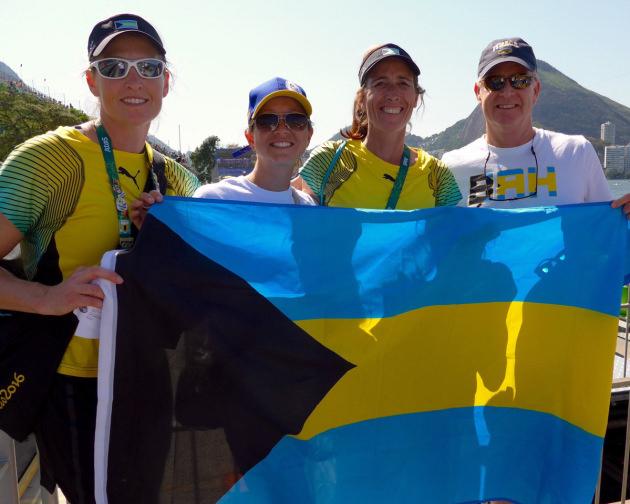 While many of the Olympic athletes had been training for years, Morley only began seriously training in November 2015. It was only a few months ago, in March, that she had gone to the 2016 FISA Americas Olympic Qualification Regatta in Valparaiso, Chile, to compete for a spot. But Morley's finish wasn't good enough to qualify, so when she made her way back to the U.S., she thought she was not going to the Olympics. Becky Robinson, the head coach for women's crew and sculling at Ithaca College, coached her at the qualification regatta while both her and Beth Greene, the assistant coach for women's crew and sculling, coached her at the Olympics.
Two weeks later, this would change. Becky Robinson said there are rules in place that, for instance, countries cannot have both a single and a double competing, so they must choose only one boat. This means rowers from other countries have another shot at getting a bid and participating. Luckily for Morley, not only had she gotten a spot to compete, but she got the last spot, and in the process became the first Bahamian rower to qualify for the games.
Morley said that when she came back from the Chile qualification, she was left feeling like her Olympic quest was uncompleted. Still, she was happy she could get back to training with the women's eight at the college and continue her training as normal for the spring season. But then, she said, she got the big news.
"I woke up to an email in my inbox that told me that I had qualified, and at first, I didn't believe it," she said. "I was overwhelmed with joy and excitement for the next couple of months of training."
For Morley, while this meant that she would train as hard as she could before the games, she and her coaches also wanted her goals to be practical. Realistically, Morley wasn't going to medal. She was the last rower selected from her qualifier, so the main goal became to beat somebody, Robinson said.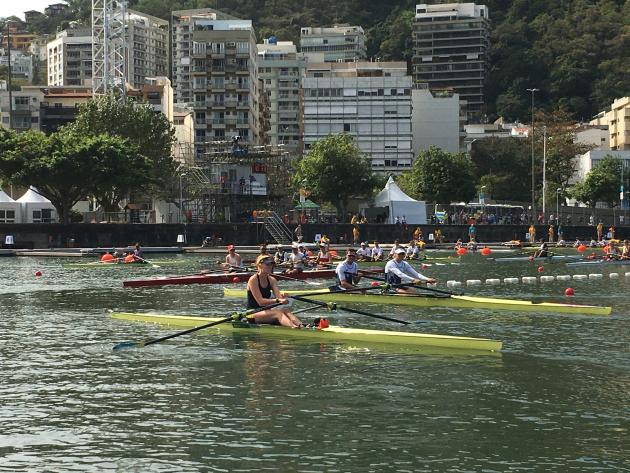 And that's exactly what she did. Morley ended up finishing 30th out of 32 scullers from around the world. Morley placed sixth out of six in her opening heat and then went on to the repechage, a second-chance race. Robinson said this was Morley's most pivotal race because Morley finished fourth out of five, beating Peru, which beat her in Chile. By beating Peru, she made it to the Semifinal E/F 2 and then onto the E final, which she said was ultimately one of her biggest goals.
"The experience was something that I wouldn't trade for the world," Morley said. "Just being on the starting line with world-class rowers was an experience I will always keep with me. No matter the outcome of my races, the amount of pride I had for not only my country, but Ithaca College, overcame that."
Morley said to be able to compete in the Olympics was an adventure in itself, regardless of her results. However, the experience did not necessarily come so easily. Many of the races Morley was set to take part in were delayed and canceled because of weather and poor race conditions.
Robinson said Morley was not mentally impacted by the delays because it is a weather–dependent sport and she has experienced similar delays in college. Yet Robinson said the water conditions were by far the worst she has ever seen a race take place in. Bad conditions include rough water in which the waves can crash over the boat, the boat can fill up with water or the boat is pushed in a different direction from where the sculler wants to go.
Morley said that training on water she's never been on is always an adjustment but her training in Rio was different from any other preregatta training she had done before. This was because the lanes were always crowded, the water conditions were constantly changing, and the boats were fast.
"At first, I felt very flustered and felt like I had to keep moving without any rests in between pieces or drills," Morley said. "But when I got my oars and got into the swing of how people moved and practiced around the course, I got used to yielding to faster boats, mentally telling myself that it was OK to let them pass, but I also just mentally felt more comfortable with the course."
Aside from the actual race conditions, Robinson said, the quality of the water in Rio was fine, something that was a concern before the games. Robinson said the water did not smell bad, it looked clean and clear, and they received a water–quality report every day.
Regardless, Robinson said Morley still took a few precautions by having a screw-top water bottle and keeping it in a dry bag. They also had antibacterial wipes to clean everything that had touched the water.
"The levels of E. coli and other bacteria in the water were as low as they've ever been," Robinson said. "By the end of the week, there was a group of men from the Netherlands that swam out to their women's pair that won. The U.S. threw their coxswain in the water. It could have been really bad. I'm not saying the water wasn't polluted at one time, but they did a really good job of cleaning it up."
News reports leading up to the mega-event stated that Rio was unprepared and dangerous, with the Olympics' taking a toll on the city economically. Brazil is facing its biggest recession in decades, and it overran its budget by $1.6 billion for the games, while its president, Dilma Rousseff, was in the middle of an impeachment process.
Despite the worries and problems, Greene, said it was great to see so many people from all over the world come together.
"Just because someone looked really different, there was this air of respect," Greene said. "It wasn't like, 'Oh, you're different from me. Maybe I shouldn't trust you.' It was like, 'Oh, you're different from me. That makes you interesting. Let's try to figure out about you,' and it was so different from the real world in that way where you were so psyched to see people that were nothing like you as opposed to being afraid of people who aren't like you."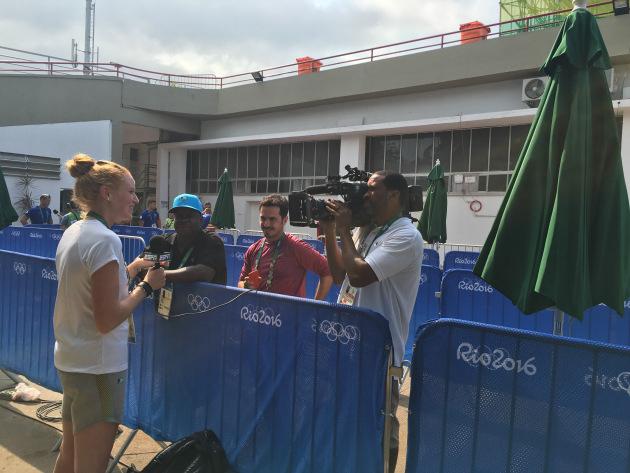 Greene also said a big way athletes got to meet and interact at the Olympics was through trading pins, as many countries were given pins that say their country's name and "Rio 2016." Robinson said Morley even got a U.S.A. pin from Venus Williams, even though Morley and her coaches had not recognized her initially. Morley, Robinson and Greene also spotted many decorated athletes in the dining hall, including Usain Bolt and the Final Five, the U.S. women's gymnastics team.
While Greene, Robinson and Morley were mostly in the Olympic Village, and most of what they saw of Rio was nice, Greene said they noticed the suffering of Rio's poor populations firsthand.
"There's so much coastline and so much beach, but we would drive by some places that we were really like, 'Does that house even have windows? Does someone live there?'" Greene said. "They almost looked like they were stacked on each other, and you're just like, 'I'm not sure if that house has a foundation.'"
Meanwhile, in the U.S., Morley's teammates were anxiously watching the games, hoping for a glimpse of their teammate competing on the international stage.
Senior rower Jackie McDevitt said her team could not be prouder of Morley for making it to the Olympics and being able to compete against the best in the world.
"You could tell how important it was to us to be able to send one of our own," she said. "It just felt like a success for us, just seeing her on TV and getting to watch her races. It kind of is true to our team that we would be so proud of her successes even though they're not ours."
Morley said if she does not commit to the Tokyo 2020 Olympic Games, it is her hope to help another young Bahamian qualify. However, she said if she trains for the next four years, she could see herself giving the Olympics another shot.
"Going into Rio, I had it set that I would only be competing in Rio, but after being there with the athletes and the atmosphere, I think I might have caught the Olympic bug," she said. "During my cooldown after my last race, I had a moment where I felt that my rowing journey was incomplete. I felt like I had more to give."