'Tis the season for final exams, projects and papers — and the stress that comes with them.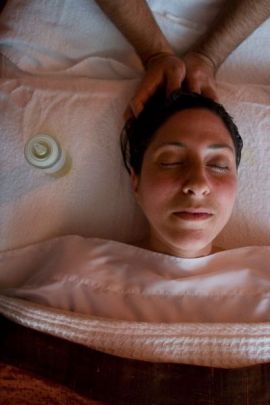 Fortunately for college students in Ithaca, some quick, convenient ways to relax and pamper are now within closer reach. Local spa professionals understand that students are limited in time and money and are making efforts to reach out to the college population by offering services that are friendly to students' schedules as well as their wallets.
Assistant Accent Editor Kaydi Poirier discovered some of the ways students can de-stress, whether they are on a tight budget or have some extra cash to spend.
Among the approximately 15 spas and salons in the Ithaca area, the following three were chosen for their variety of spa treatments and proximity to the Ithaca College campus.
August Moon Spa
256-2772
Avacado, sesame and cucumber might sound like lunch, but at August Moon Spa at La Tourelle Resort on Danby Road, they are used for body-wrap treatments that lead massage therapist Kash Iraggi-Wiggins highly recommends for stressed-out college students.
During wrap treatments, the body is coated with warm sea algae or warm mud and wrapped in towels for 20 minutes, which kicks up the core body temperature.
"When you're under stress, you build up toxins in your body," she said. "So it literally draws the toxins out through your skin — the sea algae in the sushi wrap or the warm mud in the mud wrap capture those toxins."
The treatment comes complete with a scalp massage and body butter application. All August Moon Body Treatments are $105 for 50 minutes of splurge-worthy bliss.
For an unusual indulgence, Iraggi-Wiggins recommends the Taughannock Falls Waterfall Treatment, at $125. It takes place on a wet table in the spa's Vichy room, or water room, the only one of its kind in Ithaca. Warm water flows from jets during the 50- or 80-minute treatment, which includes a hot stone massage and a salt scrub.
But students don't need to spring for a full service to experience August Moon luxuries. A menu of Therapeutic Add-on services — including paraffin wax dips to moisturize hands, feet and elbows or knees, a 25-minute reflexology and a customizable Pick-Me-Up massage — starts at $15. Iraggi-Wiggins said almost any Therapeutic Add-on can be enjoyed by itself.
For $25, students can purchase a day pass, which gives them access to the spa's relaxation rooms, workout room, sauna and steam room. The pass is included in most services but can also be purchased alone.
Alta Spa & Salon
273-6818
Alta Spa & Salon on East State Street offers a Hot Stone Manicure and Pedicure within its extensive treatment menu. Hot stones are massaged on different areas of the body to relax muscles and keep the whole body warm while the hands or feet are treated.
Manicure and pedicure services at Alta Spa & Salon include Regular, French, Spa, Hot Stone and exfoliating Glycolic varieties. Manicures start at $25 and pedicures start at $35.
The spa also offers a Mini-Combo menu made up of customizable packages. Visitors can choose from the list of nine combinations — from a $68 manicure and half-hour massage to a $190 head-to-toe pampering session that includes a manicure, pedicure, body treatment and swiss shower.
Owner Awura-Abena Ansah said she recommends body treatments for students who are willing to spend a little more on pampering.
For example, the Shea Butter Full Body Treatment ($120), gently exfoliates with oatmeal and moisturizes with ultra-rich shea butter to make the skin more supple and prevent dehydration, especially during the winter months.
Alta Spa body treatments are one hour long and range from $100 to $120.
"When people come to a spa, it's nice for them to do something out of their comfort zone," Ansah said.
For students, that comfort zone might be the price range, but with the holidays around the corner, a gift certificate would be a worthy addition to any wish list.
Rasa Spa
273-1740
Rasa Spa, located in the
Island Health and Fitness Center on Taughannock Boulevard, is the only spa in Ithaca to offer a hot oil scalp treatment called Ananda, which means "bliss" in Sanskrit. Warm sandalwood, vetiver and sunflower organic oils are massaged into the scalp, followed by a neck, shoulder and foot massage. The half-hour treatment ends with a face massage using warm towels to relieve sinus pressure.
The relaxation that comes from the short session is impressive, and even at $55, students don't have to break the bank to try it for themselves.
"The cool thing that I've seen with people is once they get it, they really get zoned out," Rachel Hogancamp, massage therapist and co-founder of Rasa Spa, said.
On the less expensive side, Rasa Spa also offers a $25 day pass that gives visitors access to the spa even if they are not there for a treatment. The pass is included in all treatments but waxing.
The pass gives the visitor access to the showers, sauna and changing rooms. A terrycloth bathrobe, sandals, shampoo, conditioner, body wash and lotion are provided, and visitors can then spread out on a chaise lounge in the spa's tranquility room to read a book, take a nap or unwind in the meditation room.
Hogancamp said Rasa Spa recently made Tuesdays Ithaca College Days at the spa, so students can receive 10 percent off any treatment on that day.
"I want people to choose things that are going to feel good but also that they can afford so they don't feel that coming here is stressful," she said.