Drops of sweat rolled off junior Kevin Hurley's face onto his Ithaca track and field shirt, as he pushed his magnetometer across the ground of his team's archaeology site.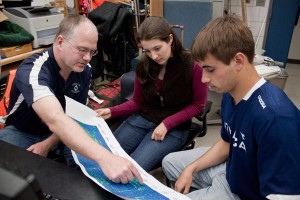 "I hope I'm getting better at this," he said. "I definitely need to get better at the technique so I'm more attractive to graduate schools."
While some students spent their spring breaks on a beach in Florida, Hurley spent his surveying centuries-old villages under the Mediterranean sun in Cyprus.
"The world as we know it was shaped by what happened many years ago," Hurley, a physics major at Ithaca College, said. "It is through archaeology that we can uncover many answers about who we are and how we got here by just digging a few feet under the ground we walk on every day."
Hurley is just one of many students joining in the growing interest in anthropology and archaeology. Faculty members from the anthropology and physics departments at Ithaca College offer fieldwork opportunities for interested students every year. This year, Michael Rogers, associate professor of physics, took Hurley, senior Rebecca Grollman, and several faculty and graduate students from Cornell University to Cyprus on March 12 for two weeks to survey the sites of two late Bronze Age cities, Kalavasos-Ayios Dhimitrios and Maroni-Vournes. The demand for professional anthropologists and archaeologists is expected to grow by 22 percent from 2008 to 2018, a faster increase than the average for all occupations, according to the United States Department of Labor's Bureau of Labor Statistics.
The office also reported that the increase in demand for archaeologists is specific because of higher levels of construction projects, including upgrades in the infrastructure of cities across the country. As these construction projects increase, more archaeologists will be needed to ensure that the preservation of historical sites and artifacts meet federal standards.
To supply more professional archaeologists, Kevin Mullen, publications fulfillment manager of the Archaeological Institute of America, said institutions are sponsoring more than 400 fieldwork projects around the world every year. Mullen said as a prerequisite for a profession in archaeology, students must complete some form of fieldwork within an archaeology field school or degree program.
"For students who are thinking of being professional archaeologists, they should go to a field school," he said. "The contract jobs don't look to train people while they're doing the practice."
Most of the fieldwork opportunities listed on the institute's Web site are associated with colleges or universities. Mullen said most participants are students or volunteers, ranging from fewer than 10 people to several hundred people on a single project.
"It's imperative [for students] to get out there and do fieldwork," he said. "Students will sometimes go into it thinking it's just a summer activity for them, but then they really start enjoying it and realize it's a lot more work. They really need to try it out first."
Sturt Manning, Goldwin Smith professor of classical archaeology at Cornell, and Kevin Fisher, a postdoctoral fellow in the classics department at Cornell, started the project several years ago before Rogers joined last summer. Together, the team drafted a proposal for the National Science Foundation and was awarded a grant of $168,104 for four years — $60,534 to Ithaca College and $107,570 to Cornell.
"What we know is in the Late Bronze Age, Cyprus all of sudden gets monumental architecture," Rogers said. "So our big questions are around, 'what was going on with social transformation there?'"
He said his team's goal was to incorporate new technology, such as magnetic currents, with traditional excavation archaeology to determine the social, economic and political makeup of the 5,000-year-old cities.
"We've never really looked at the anatomy of an entire city, such as where administrative zones were, where industry was, were there defenses around the city and so on," he said. "If we can answer these questions, we can better understand what was happening with these people."
Rogers took a smaller team to Cyprus for two weeks in the summer of 2008 for a preliminary survey of the area. Hurley, who went on both trips, said he became involved with the project after he attended a physics research roundup seminar last year, where faculty presented their research projects to students.
"When I came to Ithaca, I was just interested in physics," he said. "But after last summer, I got more interested in archaeology and surveying. My friends kind of think of me as a living Indiana Jones."
This trip was Hurley's seventh fieldwork project of his college career. He said he has also done fieldwork in Las Vegas; Geneva, N.Y.; Albany, N.Y.; Aurora, N.Y.; and Ithaca.
"The main importance [of archaeology] is to help other people; help answer the questions they are looking for and help further their research," he said. "We should know what our past is."
During this survey, Hurley said the team found more buildings and structures underground. He said this survey was especially important because it can help uncover clues to these old civilizations.
"We're trying to see if many of these excavations are linked together by buildings or roads underground," he said. "We want to help preserve these ancient villages."
Hurley, who was one of the main data processors of the project, said he would like to become an archaeological geophysicist after hopefully attending graduate school in England.
"As long as there are [traditional] archaeologists out there doing work, there's going to be a demand for me to help them find what they need," he said.
Nearly 1,400 colleges and universities offer history and archaeology degree programs in the United States, according to MyCollegeOptions.org, an online college planning service for students.
Jack Rossen, associate professor and chair of the anthropology department, said there is no official archaeology degree program at the college, but students can choose to focus their studies in archaeology within the anthropology department.
According to the Office of the Registrar, there are 46 registered anthropology students at the college this year —11 more than last year.
"Interest in archaeology goes through cycles," Rossen said. "Judging by the hundreds of hours of volunteer time [from students] in my archaeology lab, there is a lot of interest in archaeology right now."
Rogers said he hasn't noticed a significant increase in students studying archaeology, but he said he has had more people show interest in his team's fieldwork research.
"Archaeology is just sexy," he said. "People are interested. It's cool. It has that neat, sexy appeal that the public wants and will pay admissions costs for."
Kathryn Gleason, associate professor of landscape architecture at Cornell, was part of a team that discovered a Roman formal garden buried by the eruption of Mount Vesuvius in the Great Peristyle of the Villa Arianna, Stabiae, Italy in A.D. 79.
Italian archaeologists in Italy began researching the site in 2007. Gleason said the groups called her for help with their research in 2008.
"When they approached me I was already doing so many other projects, but I thought this one was very important," she said. "The garden was in danger of being washed away, so we had to document it as soon as possible."
Gleason's team is going to the site for the month of June this summer to continue sampling and studying its remains.
Catherine Kearns, a classical archaeology graduate student at Cornell, attended the Cyprus survey last week and will be going with Gleason to Italy this summer.
"I developed a strong affection for the material culture of the past through museum work," she said. "I always wanted a career that would allow me to travel and read."
Kearns said by definition, archaeology is the study of material cultures. She said it's important for people to learn about their cultures in this scientific and mythological way.
"We as humans are physical," she said. "We use material things all the time in our day-to-day lives. Archaeology is a great way to see how human behavior was in the past through what we touched and what we built."