I'm too afraid to jump off even the smallest ledge of the gorges, so I never thought I would spend a Saturday night walking on a hot bed of coals, surrounded by chanting and drumming.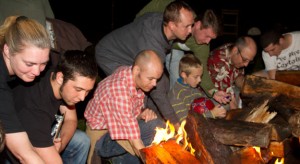 The sun was still out when I got there at 6:30 p.m., which made the pile of logs in the middle of the grassy field visible. Tiki torches that weren't yet lit created a path to the logs. It was clear that fire was the theme of the night.
Inside the Foundation of Light, a spiritual center about six miles east of Ithaca College, chairs were set up in a semi-circle in the back of the room, surrounding piled-up cinder blocks. I stepped inside and signed a "so-you-don't-sue-us-or-anything" waiver.
I was here tonight for LifeCourage, an empowerment workshop which uses vivid physical metaphor and ultimately firewalking to achieve a set goal.
Tony Simons, leader of the empowerment workshop and associate professor of management and organizational behavior at Cornell University, entered from the kitchen wearing a Superman T-shirt over sweatpants and worn sneakers with a plateful of honey crisp apples as a welcome snack. He first encountered firewalking six years ago at a goal-setting workshop called "Big Hairy Audacious Goals."
"The conversations the next day about what kind of goals do we want to set for our lives were profoundly changed by the fact that we all knew we could walk through fire," he said.
By 7 p.m., nearly 20 people had trickled in — a group of Ithaca College students, a few couples and some individuals. Emerging from the kitchen, now with a Hawaiian shirt on, Simons introduced himself and led us outside to the stacked-up kerosene-soaked logs. Beside the fire pit were three types of unattended drums.
A Ziploc bag full of lighters went around and with a phht, I took my little flame to the bark of a log. As I inhaled, the scent of smoke overpowered the kerosene, and flames licked up the cherry logs.
It was here we introduced ourselves and told the group — and the fire — what we wanted to overcome that evening and what intentions we were setting.
I can't say I went into the workshop with any particular goal or hardship to overcome. I was driven by curiosity, but mostly the thrill and challenge of walking on fire.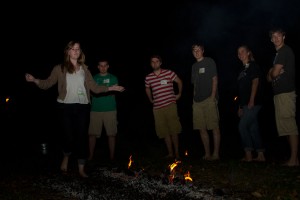 Julie Bazan, from Rochester, came to the workshop with her husband, Mike D'Angelo. After turning 40 in June, she went skydiving, and firewalking was the next adventure — not only to check off her bucket list, but also to gain some power back.
"I've always been a confident person," she said. "In the last year, my family went through some sudden and unexpected deaths and illness, and it was just a very tragic year. I feel a little worn down, and I just want to strengthen myself back up."
Erik Lehmann, founder of Dream Catalyst, a nonprofit organization for homeless children in Ithaca, said there is a layer of possibility in every walk. Tonight would be his eighth fire walk with Simons.
"The first time I was like, 'Can my feet handle this heat?'" he said. "That was it — that was the biggest question I asked myself. The second time was like, 'What else can I do? What else am I not popping out of bed to be in the morning?'"
Lehmann wasn't the only fire-walking veteran returning to the workshop. Aaron Baker was here for his third fire walk, and Barrett Keene was also a returning fire walker. I wondered how many times I would need to go through this workshop to be able to get the full experience.
Simons designs his workshop as a five-step process and pairs each step with a physical memory.
"I give people physical experiences — vivid physical experiences — that will remind them of each of these processes," Simons said. "It's essentially teaching by metaphor, and you create this vivid physical experience which creates vivid physical memory that you can bring back as you face different challenges in your life."
Leaving the fire to burn down and linger in the back of our minds, we went back inside and took our semi-circled seats. Pine planks went around, and we all wrote a number of things we wanted to break through in our lives. I started mine with things like, "Procrastination," and "Not showing up late to Architecture."
"The key to breaking the board is to punch through the board," Simons said. "If you imagine yourself punching at the board, you will unconsciously slow your fist as it approaches the board and you won't break it."
I was not feeling confident going into this exercise, and I certainly didn't volunteer first, though Simons asked that a girl demonstrate. I waited to make sure other people successfully broke the board first.
I'm not sure that I visualized punching through the board, but I closed my eyes and went for the palm-strike. All I remember is looking down and the plank was in half. I felt my adrenaline kick in after that, but was I ready to walk on fire yet? Not quite.
Everyone was greeted by applause, whistling and hugs after breaking the board.
Coming down from the high of breaking a board with no martial arts experience, we were now moving on to trust falls, something Simons said was "way overused in the '80s."
We left our metal chairs and walked to the back of the room to a shaky table. We crowded around as Simons instructed seven people to gather in front of the table as he got up and demonstrated the fall.
As I took a breath, I heard drumming outside by the fire where Lehmann's son, Mason, and Baker stood.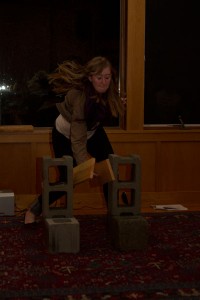 I curled up my arm and scooched my bare feet to the edge of the table.
"Ready," I said.
"Ready," the seven trustees responded.
Inhale.
"…Falling."
"Fall away," they responded in unison.
Exhale.
And with a whoosh I was in their arms and then back to the floor, standing on my own.
Again with the hugging.
After everyone took their turn with the trust fall, the room got a little quieter. We all knew what was coming next.
We returned to our seats and watched Simons pull out an arrow. He explained and demonstrated what we would be doing with it. Immediately, hands went to throats around the circle.
The arrows that passed through my hands were gray-painted cedar and meant for target practice, he said. They had a metal tip that wasn't sharp, but still pointed. I wasn't alone in testing the sharpness on my finger. It didn't look promising.
"This one entails a certain amount of pain," Simons said. "It's uncomfortable in the face of it. It's all about when you're trying to achieve a goal — many goals don't come the first time you try. Sometimes you really have to push on them."
After a few had gone up and successfully snapped the arrow, Keene gave me a nudge, and I put on yellow safety goggles. I reluctantly took the cold metal tip of the arrow and placed it in the soft hollow of my throat, just above the collarbone. I let the green and yellow tail find a spot on the wall where dozens of other puncture marks already lay. I closed my eyes and leaned into the arrow until it bent, bent and just when it felt like it was going to be too much, the wood gave way and broke in half.
The uncomfortable feeling of the arrow lingered on my throat, even after I returned to the group. Keene gave me a fist bump.
The energy had changed in the room. There was a stronger connectedness among the group, and people were starting to feel more invincible.
"I feel like a warrior here," Lehmann said. "If I could live like this 24/7, I could imagine getting a boatload more done. So I really try to push what it means to be here back into my day-to-day."
With the arrow exercise safely — and a little sorely — behind, now it was time to "let go, trust yourself, trust the divine, and go for it," Simons said.
The drums were still booming by the fire outside. Simons told us we would need to relax into our fear to safely walk across fire. He had assured me a few days prior that there had never been an instance of third-degree burns, just minor blisters.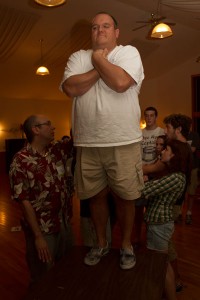 "You want to be able to relax into your fears so that you can walk evenly and lightly through the coals," he said.
Balance was key. If the foot is even, circulation will be better, Simons said. There are many theories about firewalking, but what Simons stresses is to keep a casual stride and make sure no pressure is concentrated on one spot.
To accompany the firewalking to come, Simons taught us two chants. He said silent fire walks have their own power, but the chanting helps "keep you in state." Simons stressed that I would have to be aware of my body, letting it tell me if I was ready to walk.
"If as you're standing there all you can imagine is burning your feet and being in agony, it's not time for you to walk yet," he said.
At this point, I certainly had a few doubts. I've always been the type to over-think things and imagine the worst. I can't lie — I researched 'Firewalking gone wrong' on Google the night before. So I decided just to get into the chanting, the drumming, the mood, and see.
The first chant he taught us was a Native American chant of friendship.
"Yanno-wana-ana, a-wey-ho-ana. Yanno-wana-ana, a-wey-ho-ana."
"Fill your body as much as you can with that," he said.
Bazan and D'Angelo said the change in confidence from breaking the board to the point just before the fire walk was powerful.
"It's a very positive…" Bazan said.
"…and very powerful difference," D'Angelo finished.
We left our shoes in the room and followed Simons barefoot out to the fire, along the line of lit tiki torches. As we grew closer, the drumming became louder. There was no longer a pile of logs in the middle of the field, just glowing embers in the dark distance.
The grass was cold, but approaching the bed of coals and embers, I could feel my feet grow hot. I was suddenly very conscious of the 7,000 nerve endings in my feet. As Simons scraped the sizzling remains of log to the sides of the fire pit, he began the practiced chant.
"Yanno-wana-ana, a-wey-ho-ana. Yanno-wana-ana, a-wey-ho-ana."
After smacking the 1,000-degree coals until they were flat, he walked across himself. I gave a sigh of relief after he left the coals and stepped on the damp towel waiting at the end. A line formed after that and one by one, bare feet stepped across the ashy still-red coals.
And then it was my turn. I stepped to the edge of the pit. In that moment I wasn't imagining my feet burning. I just listened to the chanting and drumming and found the thought of stepping on the coals wasn't so frightening.
I just inhaled and went for it.
One step. Crunch.
Two step. Crunch. 
Three step slightly hot, damp towel.
Exhale.
Keene gave me a hug, and it was over.
And I felt amazing. I looked at my feet — nothing but grass and mud.
I lined up to do it again. And again. And after the fifth time across the coals, I was satisfied.
While everyone in the group fire walked at least once, some students and participants tapered off around five times.
Sophomore Abbie Gepner said there isn't a single person who wouldn't get something out of the workshop experience.
"You get out exactly as much as you put in," she said. "I just wanted to put my whole being into this so I would get that much out in return. It was a very spiritual experience, for sure."
Did I get anything divine out of it? Not really, but it was a confidence-booster. I definitely would do it again and maybe take on something even crazier next time.
"It sounds crazy," Simons said. "But the reason someone would want to do it is because you feel superhuman when you step off the fire unburned."
For more information about fire walking or particpate, visit www.ithacafirewalks.com. The next fire walk will take place Dec. 2.