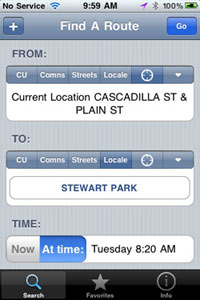 A new application created and launched by two Ithaca College faculty members is making riding the bus easier.
Since its release about one month ago, the Ride14850 application, compatible with Tompkins Consolidated Area Transit buses, has been downloaded close to 1,000 times.
Ride14850, a free application, works with an iPhone, iPad or iPod Touch device and operates as a trip planner. Users enter their starting location and destination, and the application then shows possible routes. From there, the person can select the next available route or even plan his or her trip further in advance and search for future connecting routes.
The application was made independent of TCAT using public information featured on the company website.
The application was written and created by David Kornreich, assistant professor of physics. Kornreich said the application was initially a project to make his own transportation more convenient.
"I've been using the application myself for personal use for about a year because that's pretty much the way I get around town, and it's good to have something in your hand that can do all the thinking for you," Kornreich said. "Since it's useful for me, I figured it would be useful for other people."
Ride14850 was launched by 14850.com, a website published by Public Communications Inc., an Ithaca-based company that provides marketing and computer consultation for local companies and organizations.
Ari Kissiloff, president and CEO of Public Communications Inc. and assistant professor of strategic communications at the college, said he hopes the application will help the community.
"We're trying to get organizations who would benefit from people taking the bus to them," Kissiloff said. "It's not just about making an ad or a poster, but it's really trying to get it woven into the fabric of community organizations."
Ride14850 contains GPS capabilities that not only illustrate bus routes, but also show users how to arrive at the nearest bus stop after identifying their current location.
Doug Swarts, service development manager at TCAT, said the company currently does not have an official application but plans to improve the information it offers to support unofficial applications like Ride14850. Swarts said TCAT plans to hire an outside consultant to conduct an information technology study to create a database to coordinate information offered from all of the TCAT's departments.
"We hope to have a centralized database that can push out a data feed each time there's a service change," Swarts said. "Anything that any electronic application would use would all point to this one database."
Swarts said TCAT approves of Ride14850 and other similar applications.
"We like getting information in the hands of the public," Swarts said. "Electronic applications and mobile applications are really good for reducing the difficulties of riding public transit. They let you know that the bus is going to be there."