Soon after arriving at his job one morning, Lee Fountain yells, "Call me Waldo!" and recites line after line of the American poet Ralph Waldo Emerson's thoughts. This man is not insane.
After reading Emerson's works, Lee (Matthew Boston), a descendant of Emerson, takes on the classic writer's persona in the Kitchen Theatre Company's comedy "Call Me Waldo."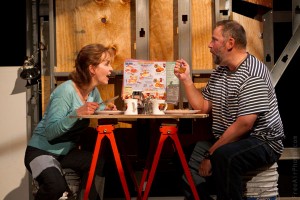 After his daughter nearly dies and his depression worsens from the tragedy, he  immerses himself in the writer's transcendentalist world. His outbursts show up in every aspect of his life, from work with his self-centered boss, Gus Sakellariadis (Brian Dykstra), to his home with his wife, Sarah Fountain (Rita Rehn). For literary and marital help, Sarah consults her friend, Doctor Cynthia Allen (Jennifer Dorr White), who studied American writers.
All of the play's actors show promise, but only Dykstra truly shines. Dykstra, a producer-playwright himself, originates the knuckle dragger character with the unpronounceable last name perfectly. His posture and movements make him convincing as a typical, blue-collar working man.  Sharing fast-paced, amusingly abusive banter with each person, Dykstra constantly serves as comic relief in an otherwise bleak tale.
Boston does not portray Lee ­­— a man so unhappy that he has to pull his car over on the highway to cry — with the same believability Dykstra brings to Gus. His only convincing moment occurs when he tells his wife that he feels like "a nothing." As his Emerson alter ego, his strength occasionally emerges with a lowered voice and faster actions, but it is not an act that saves his performance.
Both Rehn and White give strong performances as Rob Ackerman's Brady Bunch-like sitcom archetypes of women. Rehn charms during a scene after she has sex with her
Emerson-minded husband as she wears a beautiful white dress straight out of Emerson's era, a design by Hannah Kochman. White has a brief burst of anger when she ridicules Emerson's work. Otherwise, the women feel like fill-ins, present only to advance the plot.
Challenging wordplay and entertaining innuendos abound in Rob Ackerman's writing. Master one-liners, like Gus calling his tequila "to kill ya" and Sarah flirtatiously asking Lee "Where's Waldo?" in reference to his genitalia,  have comedic potential, but overall the script lacks a clear course and leaves the audience confused throughout the story's progression.
The plot feels rushed from the beginning, with a late point of attack. The ending is inconclusive, without any moments of realization or catharsis for viewers.
Margaret Perry's direction helps smooth the script. She is not afraid of bold blocking, often having the actors face upstage. One particular argument begins on stage right, travels through the lobby, and resumes on stage left, taking full advantage of an intimate space. Perry displays her ability to transform fictional relationships with the cast's solid chemistry. And the actor-driven scene changes keep the tight pace of the show going while other additions, like  a humorous pantomime of truck driving, entertain.
From Lee's truck to bedroom, every location in the story emerges from units and ladders in a back wall structure. This impressive, functional and minimalistic set by David Arsenault '10 lends a sense of realism to the construction site set in every scene and keeps Lee's daily grind constantly present in the audience's minds.
Taking on a distant ancestor's mentality turns out well for Lee Fountain. But in "Call Me Waldo," the promise of fun dialogue and beautiful language leaves the audience looking for more.
"Call Me Waldo" plays through Feb. 5 at the Kitchen Theatre.