This week, Ithaca College got a little taste of the Caribbean during the celebration of Caribbean Culture Week.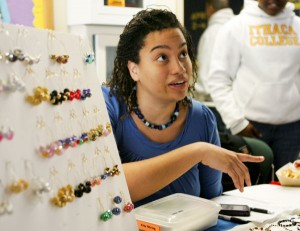 This year's five-day commemoration, sponsored by the Caribbean Students Association, is titled "Shades of Faces: Caribbean Enlightenment through Literature" and is aimed at bringing deeper understanding of Caribbean culture to the campus community. In honor of the week, CSA hosted local and international writers and academics.
Carole Davies, professor of Africana studies at Cornell University and one of the event's featured speakers, said she hopes the events help to begin a dialogue on campus about culture and everyday life in the Caribbean.
"If there's a little bit of knowledge shared and someone leaves enriched, I'm fine," Davies said. "In the midst of the framing of the Caribbean as America's backyard, or as these islands in between where one can just show up and have a good time and come back home, you have a group of people making their lives and trying to establish who they are in the world."
Davies and Shauna Morgan Kirlew, a pre-doctoral fellow in the college's English department, will discuss Caribbean culture and literature at 7 p.m. today. Author Merle Hodge addressed the campus community last night in Textor Hall with her lecture, "Caribbean Literature and the Journey to Peoplehood." Her novel "Crick Crack, Monkey," written about a teenage Trinidadian experiencing the neo-colonialist culture firsthand, has become standard reading in schools across the Caribbean.
Sudie Ann Robinson, president of CSA, said the idea for a literature-based focus came from Binghamton University professor Donette Francis, who specializes in African and Caribbean literature. She was a guest speaker last year.
"Francis actually told us that we should focus on Caribbean writers," Robinson said. "A lot of the time they don't get as much press as American or Caribbean-American authors."
Kirlew said she most looked forward to Hodge's lecture.
"I read Merle Hodge's work when I was a little girl," Kirlew said. "I remember that novel ["Crick Crack, Monkey"] resonating with me because I had a very similar experience as a child in Jamaica, living in a very colonially influenced space."
Davies, whose "Celebrating Caribbean Voices" lecture was held Monday night, said she does not see much Caribbean culture locally, so events represent an opportunity to change the status quo.
"There's no ongoing Caribbean perspective as part of the framework of Ithaca," Davies said. "A full representation of as many cultures as available is always desirable coming from university students in particular."
The week will culminate with a "Remembering Haiti" benefit concert tomorrow and a "Swagga Bash" dance party Saturday. A jewelry sale has also been held throughout the week as a fundraiser for the World Water Relief Project's efforts in the Haiti recovery.
This year featured a greater number of social  events, such as the concert and dance party. Robinson said a larger number of students participating in the CSA lead to this shift.
"This year, one of the things I try to implement is stronger bonding and communication among the freshman class," Robinson said. "Freshman membership has tremendously grown. We're adding more social programs for them that will help them bond with members of the upper classes."
Davies said increased interest from students sometimes comes in waves.
"Sometimes you have a host of students coming from a similar part of the country and that sort of creates a nexus," Davies said.
Kirlew said Caribbean students at the college need celebrations similar to this week to help unite with one another and the world around them.
"Many of the students in the CSA grew up in the states but lived in households that were permeated with accents or language of their home, the food [and] the music," Kirlew said. "There's an urge to connect to that — particularly as we think about the climate of not just our country, but our world — this need for change and desire to see a movement toward justice."