While Islamic violence over a volatile anti-Muslim video spreads in the Middle East, Ithaca College students, faculty and staff are combating violence by emphasizing moderate aspects of the faith. Members of the community agree that, while outrage over the video is to be expected, they are choosing a more peaceful path.
"The Innocence of Muslims," a short trailer for a yet-to-be released anti-Muslim film published on YouTube earlier this month, caused anti-American violence in Muslim communities around the world. The video sparked debate about widespread anti-Islam sentiment in the U.S. and forced some study abroad programs to reconsider sending students into now politically unstable areas.
The video, which portrays the Islamic prophet Muhammad as a murderous womanizer and pedophile, suggests the foundations of Islam are falsehoods taken from the Bible and Torah. During the 14-minute trailer, Muhammad encourages his followers to kill and rape women and children in battle against those who will not convert to Islam.
Violent reactions against the film began Sept. 11 when a mob broke into the Egyptian-American Embassy and killed J. Christopher Stevens, the American ambassador to Libya, and three staff members in the American Consulate in Benghazi. Since then, both violent and peaceful protests have spread across Islamic areas including Tunisia, Sudan, Lebanon, Yemen, Bangladesh, Qatar, Kuwait, Sudan and Iraq.
Rachel Cullenen, director of study abroad at the college, said students do not tend to travel to the countries significantly affected by the protests. She said there is no immediate concern about the safety of students abroad this semester.
Lauren Heinz, vice president of communications for Semester at Sea, a program offered to Ithaca College students based at the University of Virginia, said the program opted to bypass their scheduled trip to Casablanca, Morocco, last Friday. The decision was a result of concern for students' safety because of increased anti-American sentiment in Northern Africa and the Middle East. There are two students from the college currently participating in Semester at Sea. The college declined to release their names.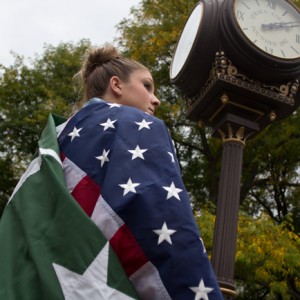 "All of our itineraries are tentative; every port on every trip is constantly being monitored and could change," she said. "It's a complex decision for us, and we decided to err on the side of caution because it's an unpredictable scenario."
Hayder Assad, an Arabic lecturer and adviser of the Islamic Society of Ithaca College, said the society will not publicly address the video, because taking a stand on the divided issue would deepen the segregation between religious groups.
However, Assad said the group would react if the provocation continued or if other religious groups did not reject it.
"It's best for our interest, Ithaca College and the United States in general, to calm things down and show this is not reflecting the true opinions of Americans, and whatever happened after [the reaction to the video] is not representing the true opinion of Muslims," he said.
Hayder said the video's producers were wrong to provoke Muslims by attacking one of Islam's most respected figures, and films should not humiliate or undermine religious beliefs, but responding with violence is not justified.
"I don't want to put myself as an extremist, and I don't want to put myself as a indifferent — saying nothing," he said. "I just can't say anything."
Yasmin Hussein, the young leaders coordinator for the Muslim Public Affairs Council in Washington, D.C., said hate toward Islam has become normal in the U.S., and the video is a reflection of that. She said Muslims in America are not likely to protest violently against the film because the Muslim community is more focused on changing policy in the U.S. MPAC is currently working to integrate American-Muslim culture into media and Hollywood to change popular opinion about Islam.
Hussein said there is no better place than a campus to help resolve misconceptions about Muslims in America.
"Unfortunately all of this hate that's happening in the world is spilling onto our college campuses, and students are starting to feel that pressure," she said. "How many of us have reached out to our colleagues or classmates that are Muslims and said, 'Hey, these are the things I'm hearing on the news, can you help me understand it better?'"
Senior Katie DeLuca, a member of the Islamic Society of Ithaca College, said students should be outraged because the video makes light of the fundamentals of Islam, but violence won't solve the problem.
"A lot of people assume all Muslims are terrorists, and anyone with any kind of headscarves or covering are automatically Islamic terrorists," she said. "We're trying to get the word out that Islam is not only a positive thing, but is a religion of peace."
The video is not expected to be taken off the Internet because alleged filmmaker Nakoula Basseley Nakoula's right to publish the film is protected by the First Amendment.
On Sept. 17 the Pakistan and Bangladesh governments blocked YouTube entirely after Google blocked access to the film in Egypt, Libya, India, Indonesia, Malaysia and other countries, according to AlJazeera.
On Wednesday, a Brazilian court in Sao Paulo ordered YouTube to remove clips of the video. The court gave the video-sharing site 10 days to remove videos of the film or face fines of $5,000 a day for every day the film remains online.
In a speech to the U.N. General Assembly on Tuesday, President Barack Obama condemned both the video and anti-American violence, but he said democracies must protect the free speech that allowed the video's release.
Nakoula was on probation for past crimes and had a court order not to use the Internet without permission when the video was released. He may have violated parole to upload the trailer without his parole officer's permission. If found guilty, he may go to jail.
Jeff Cohen, director of the Park Center for Independent Media, said the producers have a First Amendment right to publish, but there is no ethical justification for doing so.
"Your content matters," he said. "This is exhibit A of irresponsible media, and that's the lesson students should learn."