The Ithaca College community was saddened by the unexpected loss of Frank Musgrave, a retired economics professor, on Jan. 2.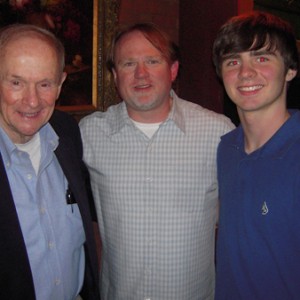 Musgrave, 80, died four days after being diagnosed with pneumonia, his wife Eva May Musgrave said.
Musgrave was born in Newark, New Jersey in 1934 and grew up in Point Pleasant Beach, New Jersey.  He graduated from Muhlenberg College and Rutgers University.  Musgrave joined Ithaca College as an economics professor in 1968. He was the chair of the economics department in the School of Humanities and Sciences from 1977 to 2001. After 42 years of working in the economics department, Musgrave retired in May 2011.
Musgrave's colleagues said he enjoyed conversations with his peers, especially if his or her opinions were different than his own. William Kolberg, associate professor and chair of the economics department, said Musgrave was respectful to those who disagreed with him.
Kolberg also said many people spoke to him about Musgrave's qualities at the funeral.
"Numerous individuals came up to me, for example, at the funeral and at the viewing and since then, saying they always prefaced what they said with 'I always disagreed with Frank strongly, but at the same time I miss him and I miss the interaction we had'," Kolberg said. "That's something I would really like to see remembered as Frank's legacy."
Bob Sullivan, director of the college's honors program, knew Musgrave because their offices were on the same floor in Muller Center. The two were known for their baseball rivalry. Musgrave was a Yankees fan and Sullivan was a Red Sox fan. Though their teams are rivals, Sullivan said, they both genuinely enjoyed the sport and were able to get over their differences when discussing the game.
"He always was very respectful of the very profound differences that we had," Sullivan said. "I honestly think that he would seek to find those things that we could agree upon rather than to emphasize the things upon which we were not to agree on."
In addition to being dedicated to his students and friendships with his colleagues, Musgrave was involved in other organizations on and off campus. He established a chapter of Students for Free Enterprise at the college and was the director of the Southern Tier Center for Economic Education from 1999 to 2001. He was also on the Board of Directors of the New York State Council on Economic Education and was on the board at the Cayuga Medical Center.
Musgrave was chosen to participate in a Roundtable in Oxford, England, multiple times, and conducted research at the University of London during his sabbatical for one semester once every seven years. He also was published in notable economic publications, such as The American Economist.
After Musgrave retired in May 2011, he focused his attention on two things: the bed-and-breakfast, called The Edge of Thyme, that he and his wife, Eva May, owned in Candor, N.Y., and continuing to write publications and books about economics.
At The Edge of Thyme, Musgrave spent a lot of time with the visitors, greeting them and telling jokes, Eva May said.
She said she has a collection of notes that students gave Musgrave after their graduation and his retirement throughout his career.
One of the letters, written in 2008, said, "I do not even know where to start really. It seems like I've known you forever. I cannot thank you enough for everything you have done for me for the past four years, and you've guided me, and your guidance is truly a lifelong gift, something I will take with me as I transition through the different stages of life."
Trip Wolf '77 was an economics major who became very close to Musgrave because he took many of his classes and co-wrote a paper with him.  Wolf said Musgrave reached out and made personal connections with him over the years.
"I thought he was the greatest professor, and all these years later he still stands out," Wolf said.
Just as Musgrave developed strong relationships with his students, he also had a strong relationship with his wife for 52 years. She said she spent a lot of time with her husband and loved him deeply. After his death, she said she has many stories and memorabilia to share.
Eva May said her favorite memory of her husband was of their wedding day.
"It was perfect," Eva May said.
Eva May said Musgrave was an inspirational figure to his friends, colleagues, students and family.  She said his humor stood out in all aspects of his life.
"He loved life," Eva May said. "He loved his students, he loved his family.  He just really loved everybody."