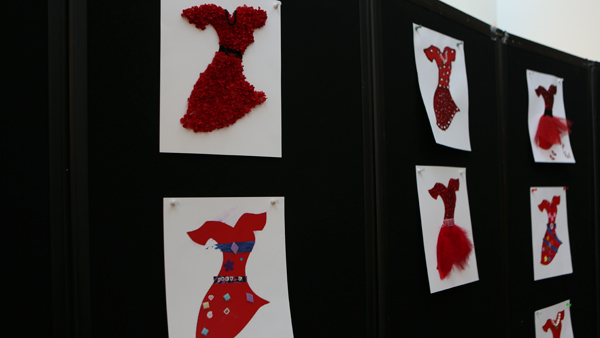 Ithaca College faculty, staff and administrators are spending this month advocating for heart health through American Heart Association's "Go Red for Women" campaign.
While this is the first year the college is taking part, the AHA began the national "Go Red for Women" campaign in 2004 to spread awareness about heart disease in women and how it can be prevented. About 43 million women are affected by heart disease in the U.S.
The campaign is part of "Mind, Body, Me," a wellness program offered through the department of human resources.
Challenges of the program include "Wear Red Fridays" and "Decorate a Dress," in which participants decorate paper cutouts representing reasons to be healthier, and a best heart-healthy recipe contest. Junior Melissa Schwartz, a student intern in the human resources department, said all recipes entered will be published in an online cookbook at the end of the month.
Schwartz helped to organize the "Go Red for Women" campaign and said one of the goals of the campaign is to change people's perceptions about heart disease.
"Heart disease is usually thought of as a men's disease, but it's actually the number one killer of women," Schwartz said.
Robin Davis, assistant director of employee benefits and work life, said based on the success so far of the campaign, the "Mind, Body, Me" program will likely expand with a nutrition series and a diabetes series in the near future.
"We have a whole list of events that we want to have on campus," Davis said. "We want to incorporate nutrition, meditation, physical activity. We want to focus on the whole body."
Schwartz said the college is hoping to share information on how life choices can affect one's heart.
"We are looking to raise awareness on a range of different topics. For topics such as nutrition, a lot of people don't know that it's extremely important to limit things such as salt and saturated fats," Schwartz said.
Since the beginning of AHA's national campaign, progress has been made toward increasing chances of living with heart disease. According to AHA, 21 percent fewer women have died from heart disease, and researchers have put more emphasis on gender- specific symptoms.
Davis said participation in "Go Red for Women" events has been better than expected.
"It's an ongoing, month-long campaign," Davis said. "We want to keep awareness up for the whole month. Every Friday people will submit us their dresses or submit pictures of [themselves] wearing red, which we post to our Facebook page."
Schwartz said she has been using social media as a way to track the feedback of the campaign and events.
"In regards to our Facebook page, that is a way we can really quantify the effects," Schwartz said. "We've gotten a lot of hits. People are really commenting and liking everything, and they seem to be really excited about it."
Katie Sack, administrator for employee benefits and work life, said the response to the efforts has been uplifting.
"We have whole departments rallying around the cause," Sack said. "It's really nice to see that they are excited."