Hour 1
The DJs kicked off the marathon singing along to pop hits in high spirits. The VIC, or Voice of Ithaca College, radio studio was packed, the spring heat dangling in the studio. Four DJs — senior Kemery Colbert and sophomores Jill Simon, Lexy White and Haley Goetz — led a group of about 10 people in a joyful chorus of pop tunes.
VIC's 31st annual 50-Hour Marathon was underway. Sophomore Anna Gardner, the coordinator of this year's marathon, was responsible for reaching out to sponsors and managing the event throughout.   
"Basically, what happens each year … is four DJs stay up for 50 hours straight, all in the name of a nonprofit," Gardner said. "I'm the person that gets to sleep a little bit and be the sane brain."
Each year, money is raised through sponsorships. Businesses, organizations and individuals can pay to be mentioned on air and receive acknowledgment on the VIC website. Businesses such as Casablanca Pizzeria, Gateway BBQ Kitchen and GreenStar also contributed food donations for the DJs, but the students were not allowed any caffeine.
This year, the beneficiary was the Friendship Donations Network, a food–rescue organization that redistributes food that would otherwise be thrown out and delivers it to those in need. Anyone could donate money online through PayPal. The marathon started at 4 p.m. April 7 and ended at 6 p.m. April 9.
Hour 2
Sophomore Ariella Ranz, promotions director for VIC, was still exuberant after the first hour.  
"I feel very, very good, 50 verys for 50 hours," she said.
Hour 5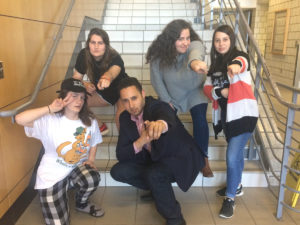 Around 9 p.m., the DJs were still going strong, but signs of exhaustion were already setting in. White and Colbert, the station manager, reminisced about why they joined VIC.
"When I started radio, I was like, 'This is really fun,'" White said. "And then last semester doing it more, I kind of got more involved. … After last semester, I started a specialty show with one of my best friends, and then I got to DJ more. And I really loved it and started considering radio as a future career possibility. I still don't know, but I definitely would not be upset or bothered to work in radio. We're just a chill group of people. We're not psychos."
Ranz was quick to disagree.
"We are psychos," she said. She laughed and spun around in her chair.
"Well … psychos in the best way," White said. "Everyone is so supportive, and that's rare to find."
Hour 6
An angry caller rang in and complained a song name was read incorrectly. The DJs apologized to the caller, and he said, "Yeah, well, it happens a lot," and hung up.
Hour 7
Part of VIC's 50–Hour Marathon is a scavenger hunt that typically involves teams of roughly four or five students. This year, there were six teams of four people.
Teams were asked to complete tasks such as getting a Tinder date, getting a piggyback ride from a stranger, starting a flash mob on The Commons and taking a selfie with a Public Safety officer. Students lining up for the scavenger hunt had no idea what their tasks were before the hunt's initiation, at 11 p.m.
For the scavenger hunt, sophomore Missy Birnbaum said snagging third place was an honor, considering the absurdity of the tasks.
"I ran a Bo Burnham monologue in Sammy's, we got a Cornell student to say IC was better, we pet a giant inflatable duck, we did a 'Romeo and Juliet' monologue," she said. "We also took our clothes off and switched them, we bought 50 bags of chips, and we also bought coat hangers, a towel and trash bags. We have no self-worth."
Birnbaum's team consisted of sophomore Aden Nasarat, junior Zoe Brown and Cornell University sophomore Caitlin Garbo. One of the tasks on the scavenger hunt was for teams to dye one of their member's hair a crazy color, so Birnbaum and her team shamelessly dyed Nasarat's hair violet.
"I wasn't expecting to dye my hair," Nasarat said as he displayed a full head of purple locks.
Hours 8–10
Around midnight, several prank callers rang in and asked the station to play Bon Jovi's "Livin' on a Prayer." VIC did not play it, and the callers rang and complained, and then called back giggling, asking for the song several more times. Soon Colbert started hanging up on callers who repeatedly asked for the song.
Junior Luke Watkins, DJ of the specialty show "Jams for 2," came in shortly after and brought the "Adventure Time" card game, "Love Letter." Watkins played the game, which is essentially a glorified version of "Guess Who," between talking sets.
"It's a fun way to pass the time and stay up," he said.  
Hour 21
Svante Myrick, mayor of the City of Ithaca, stopped by the VIC studio for an on-air interview at noon the following day. He commended the DJs for their perseverance.
"It's the sort of thing that … you shouldn't do all the time, like running a marathon or pulling an all-nighter, but it's once in a lifetime," Myrick said on-air. "You'll remember the first few hours of this for the rest of your life — those last 10 hours, I don't think you're going to remember."
Myrick wasn't the only guest to appear on the 50–Hour Marathon: Folk band Norwegian Arms, hip-hop artist Paulitics, local artist Aaron Rizzo and other local bands shuffled in throughout the two-day marathon.
Hour 27
Late into the marathon's course, DJs were starting to feel the effects of fatigue. Excitement turned into delirium. Disheveled and tense, the DJs were reaching their breaking point.
Simon's dad, Lloyd Simon, hired a masseuse, who gave everyone in the studio who was willing a massage. White was so surprised she cried.
"I was just so overwhelmed with emotion," White said. "I haven't had a lot of human interaction besides sitting in here with people. … I was overwhelmed, and my body couldn't handle it. I went in there, and she was so nice. I didn't realize how tense I was. I felt like a ball, and now I feel like a person."
Hour 31
Sugary drinks and decaffeinated sodas from vending machines scatter the studio. White attempts to slice a mini pretzel with a plastic fork, grinning happily while livestreaming to the VIC Facebook account.
Hour 38
VIC ran specialty programming shows, such as the New Music Show, Destiny's Children and Middle School Dance party — a collection of select hits from the 2000s, hosted by Ranz.
Hours 40–44
Hours blurred together as the DJs fought off exhaustion.
And Gardner could tell.
"It was easy to see that their brains were working more slowly, especially when they were speaking on air," she said. "Overall I think they handled it well, but they were definitely … delirious."
Hour 46
Sleep-deprived and exhausted, Goetz and Simon made their way over to the Athletics and Events Center to represent VIC Radio for Ithaca Today, leaving Colbert and White to struggle through the last few hours in the studio. They try not to mumble while interacting with accepted students.
Hour 50
The station was so packed with people that it was nearly shoulder to shoulder, and the sense of relief was so overwhelming it could be felt in the room once the DJs had signed off. The group raised $2,259.
"I'm tired but happy," Goetz said. "It's been fun."