Mental illness affects 1 in 4 adults, yet movements abound urging people to discuss it more openly. One organization, new to Ithaca, aims to encourage discussion in a different way — through sweet treats.
Depressed Cake Shop in an international grassroots organization created to raise mental health awareness and discuss mental health issues while raising money for local charities. The Depressed Cake Shop movement started in the U.K. in 2013, but bake sales associated with the movement have since popped up worldwide.
This year, Catherine Gooch, program manager of Longview in the Department of Recreation and Leisure Studies, and students in her Administration of Therapeutic Recreation class decided to organize a sale on April 23 at the Cornell Cooperative 4-H Duck Race. Baked goods were donated by the Ithaca Bakery, John Joseph Inn, Ithaca College's Department of Recreation and Leisure Studies and several individual donors. The $310 raised went to the Tompkins County Suicide Prevention and Crisis Center. Gooch said that as far as she knows, this is the first instance of a Depressed Cake Shop sale in New York.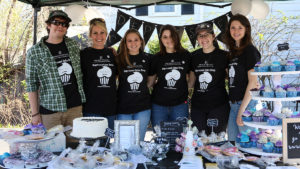 Senior Lindsey Schell, who was in charge of social media marketing during the event, said the sale afforded an opportunity to educate others on mental health while raising money for a good cause.
"While we're raising money, we're also educating people about mental health and hoping to erase the stigma that revolves around mental health issues," she said. "I've dealt a lot with mental illness in my family. … So it's a subject that's close to my heart."
All treats on sale at the event featured the color gray, which Schell said represents mental illness. Splashes of bright colors on the treats, she said, represented hope.
Senior Alec Harris, another student from Gooch's class, said the Depressed Cake Shop has been getting a great deal of attention lately and that it was a goal of the class to fight preconceived notions of mental illness.
"The idea of presenting mental illness in a colorful, happier fashion using cupcakes … is a nice way to change the way people view mental illness," he said. "You can have a mental illness and still lead a perfectly healthy life."
The Duck Race seemed like the perfect opportunity to hold the bake sale because of its timing and because of the large crowds it's capable of drawing, Harris said. Participants bought rubber ducks and sent them down Cascadilla Falls. Prizes were awarded to those whose ducks finished in the top 50. In addition, the event featured live music, several vendors and activities for kids.
"We were looking for an event in the local community that would draw a lot of people, and this has usually drawn about 500 to 700 people annually," he said. "It's inclusive, there's all sorts of groups and all sorts of education, and we really wanted an event with a lot of foot traffic."
Gooch said she thought the sale would be a creative way to tackle an issue students in the class have an interest in. She said she heard about a Depressed Cake Shop sale in California from a magazine article and thought that bringing the sale to Ithaca could benefit the students and the community, she said.
The organization aims to create pop-ups worldwide that sell customized baked goods to get people talking about mental illness, according to its website. Anyone can start up a pop-up shop, permitted they're working in connection with Depressed Cake Shop and selling for a charity.
At the end of the event, most of the cupcakes had been sold, and Harris said he was happy about the conversations that were had with community members. Whatever wasn't sold was given to the college. Gooch said some people suggested they integrate the organization into the local community.

"We really want to decrease the negative stigma around mental illness and anxiety," Gooch said. "We've had teachers say, 'Wow, I'm dealing with young kids that are depressed, and this is really important. Maybe we should bring this into the schools.'"