Senior Kiefer Fuller had never had a good bass to call his own. He purchased his first upright bass when he was 18 years old, after saving up enough money from his job at Little Caesars. Unfortunately, even a $1,300 bass is not considered quality enough for professional or collegiate use.
As a result, for the past two years, he has been using one of the basses that Ithaca College has available for students. During the summer of 2017 though, the International Society of Bassists gifted Fuller a double bass worth up to $30,000.
Fuller began his collegiate education at Onondaga Community College. He said that he originally had the intention of studying music at Ithaca College, but he had only started playing the upright bass three months before he had to submit auditions to apply. He said that he felt that he could not become good enough at the instrument in that short a time to go to a competitive music school like the one at the college, so he chose to attend OCC for two years instead before transferring into the program at the college.
"I was actually the only upright bassist at OCC," Fuller said. "I basically had to do all of the work myself with my teacher. It's not like here, where there's 12 other bassists who you can bounce ideas off of."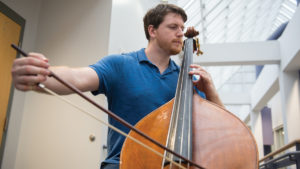 Fuller transferred to the college in Fall 2016. He studies musical performance while also performing with the orchestras, church choirs and musicals.
This summer, Fuller volunteered for the International Society of Bassists 50th biennial convention held at the college from June 5 to 10. A grant offered through the college allowed all bass students to attend the convention for free as long as they volunteered for a few hours each day. The ISB convention is a place where bassists and luthiers, the people who make basses, come from all around the world to share their knowledge, teach and attend workshops, play music and perform for one other.
The Build a Bass program, which brings luthiers together to create a bass in a week, was featured at the convention. This program is spearheaded by Paul Hart, a luthier from Utah, and began at the previous ISB convention. The group was able to make two basses for this convention, one to raffle off to raise money for the ISB and one that Madeleine Crouch, general manager of the ISB, convinced the luthiers should be gifted to Fuller. Crouch said Hart was immediately receptive to the idea.
"Paul Hart heard Kiefer's story and we suggested to him that Kiefer would be a good home for the bass," Crouch said. "He thought that the team would very much like to use their week of hard work in an act of philanthropy."
Nicholas Walker, associate professor in the Department of Music, said the luthiers were working around the clock during the convention to make the basses.
"Normally, it takes six months to build a bass," Walker said. "To make one in a week is just insane."
Fuller said that at the convention, he met Crouch. While he was helping Crouch, they talked about how he ended up at the college and how he was borrowing a bass that was donated to the college by Barry Kolstein, a luthier from Brooklyn. Later in the week, Crouch interviewed him one-on-one about how he was able to attend the college even though his family did not have a lot of money.
"I was really impressed by Kiefer," Crouch said. "He was a really hard-working volunteer, but he was also such a self-made man."
Crouch said she found Fuller's story inspiring, which led her to tell Gary Karr, a world–famous classical bassist who founded the ISB, about him. Karr said he was interested in hearing Fuller play for him, Crouch said, and he offered to hold a one-hour session during the convention.
"Just to say he played for Gary Karr in the double–bass world is an enormous thing," Crouch said.
During the conference, the guests and volunteers attended a nightly performance held in Ford Hall in the James J. Whalen Center for Music. On the last night of the convention, Matt McDonald, principal bassist for the Berlin Philharmonic, was scheduled to perform. Before his performance, Crouch went onstage to give general announcements and called Fuller up to the stage. It was then that Walker took the microphone and announced that Fuller had been gifted one of the Build a Bass custom basses.
"It felt like I won the lottery," Fuller said.
Fuller said the bass, which was finished and varnished during the fall of 2017 by Hart is estimated to be worth between $25,000 and $30,000.
"It would've taken me forever to get an instrument like this" Fuller said.
Without this gift, it would have been difficult for Fuller to afford graduate school and the bass that he would have needed to be successful, he said.
After Fuller exited the stage in possession of a bass, the guests watched the performance by McDonald, one of the most prominent bassists in the world.
"I thought it was awesome," Fuller said. "Even if I hadn't gotten the bass, I would've thought, 'I can die happy now.'"
Fuller plans to go to graduate school at Boston University, where he will focus on orchestral work in hopes of getting a job in an orchestra.
*Editor's note: This article has been updated to reflect a correction of the price of the original bass that Fuller used.