The sports media major has been growing fast ever since it entered the Roy H. Park School of Communications in 2017, increasing from 51 members in Fall 2017 to 128 in Fall 2021, according to the Office of Analytics and Institutional Research (AIR). However, those numbers do not show the lack of growth in the gap between male and female students in the major.
While the number of men in the major has continued to grow, the number of women has stagnated. In Fall 2017, the major enrolled 10 women, 19.6% of the total enrollment, and 41 men. But in Fall 2021, that number was up to just 14 women, making up 10.9% of the major, while the number of men rose to 114. The gender breakdown in the major is not reflective of the rest of the college, however, which is made up of 2,968 women and 2,271 men, or 57% female. AIR did not make note of students who identified as other genders.
According to data collected in 2020 by Dani Pluchinsky '21, former sports editor for The Ithacan, other colleges with similar programs also struggle with female enrollment numbers. Pluchinsky analyzed data from nine other colleges and universities, including Rider University, Marist College and Emerson College, three private institutions similar to Ithaca College in size and location. Emerson had the highest percentage of women enrolled in a sports communication degree with 25.6%, followed by Rider with 18.75% and Marist with 18%. At the time, Ithaca College's sports media major was 14% female.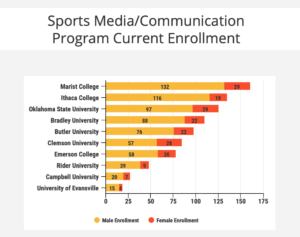 Mead Loop, professor in the Department of Journalism and director for the sports media program, said he thinks it is important for all enrollment numbers to increase for both the major and the college, regardless of gender. 
Tim Mirabito '03, assistant professor in the Department of Journalism, said the most women he has had in a sports media class is six. He added that the lack of growth is something the program is paying attention to, but knows it still has a long way to go. 
"I think we are trying to [fix the gap]," Mirabito said. "I think the results haven't matched the efforts from my point of view."  
Mirabito said he thinks part of the reason for the gap is because of the lack of professional opportunities. A study from the University of South Carolina also found that 95% of sports anchors and co-anchors at ESPN and local affiliate stations were men, while 85.6% of ancillary reporters on sports shows were men.
In addition, women in sports media face harassment and sexism, both in and out of the workplace. A 2016 PSA titled #MoreThanMean illustrated some of the comments women in sports receive online in reaction to their work. Many women have also come forward to tell their stories about facing higher standards than men in the same position.
But Mirabito added that the low numbers cannot just be played off under the reasoning of fewer professional opportunities. If anything, he said it shows just how important it is for more women to enter the field.
"I don't consider the professional prospects as an adequate excuse for not having more female students," Mirabito said. ​​"It's a complete effort across the board to be mindful of this, it's a charge that I think we all understand and can kind of be on board with." 
Emily Adams '21, a former sports editor for The Ithacan, now works for Knoxville News Sentinel in Knoxville, Tennessee as a sports reporter after graduating with a degree in journalism and a minor in sports studies. Although Adams wanted to go into sports, she said she did not want to be in the sports media major at the college.
"My philosophy coming in was that I just wanted to be in print journalism, and that was pretty much it," Adams said. "For me, that wasn't enough of an emphasis in the program."
Adams said one reason she thinks the sports media major has such a big gender gap is because of students who want to go into sports, but want a more specific major like journalism or television-radio.
The journalism major at the college has 82 women, which makes up 70% of the major, and 32 men, while television-radio has 137 women and 143 men in the degree.
"I think it's interesting that the journalism major is overwhelmingly women," Adams said. "[Sports media] tends to cater to a very specific type of person and a very specific type of career in sports."
Adams said many of the men in the major are what she would describe as "bro-y" or part of "bro culture." Because of that, she thinks the students in the major do not get challenged in their ideas since so many of them come from the same perspective.
"It turns into a bit of an echo chamber in some ways," Adams said. "Half of your classes are going to be 90%, if not 100%, male, and most of your professors are going to be male, and so it's kind of echoing similar perspectives back at each other … it's so egregiously obvious."
But a step in the right direction, Adams said, was the program hiring Ellen Staurowsky '79, professor in the Department of Media Arts, Sciences and Studies. Staurowsky earned a Master of Science in sport psychology from the college, where she also taught from 1992 until 2011 in the Department of Sport Management and Media.
She rejoined the college in 2020 after spending nearly a decade with Drexel University in the Department of Sport Management, where she still works as an adjunct professor. Mirabito, who had Staurowsky as a professor while he was a student at the college, said she is a great leader in the program.
"[Staurowsky] is the role model that I would actually hand-pick in this world," Mirabito said. "I don't send just female students to her, I send every student to her."
Staurowsky said that she is too new to the program to truly understand the causes of the gender gap in the program, but that it is part of the larger culture she has witnessed during her career. In Spring 2021, she taught a course called Women's Sports Media Incubator, made up of 14 women and 11 men, which she said was the first and only sports media class she taught with more women than men.
"I walk into a classroom [and] I'm the only woman professor and there is one or two woman students," Staurowsky said. "This is a male environment … we have significant work to do from a cultural perspective in terms of creating a more inclusive environment for women."
The college has a chapter of the Association for Women in Sports Media (AWSM), a nationwide organization that acts as a support network and advocacy group for women in sports media. Senior Anna Harris, a sports media major, is a part of the group, while Mirabito and Staurowsky are faculty advisers.
Harris said she used to feel uncomfortable walking into classrooms with only men. She said it was not only the students, but the fact that all of her professors were men before Staurowsky rejoined the college. 
"It was uncomfortable," Harris said. "I don't want to give in to that mindset, but you do feel that your opinion is less valued in a room full of men … [but] I've seen more animosity with professors [than with students], especially one professor, that has made me uncomfortable or made me felt that I didn't belong there."
Harris also said she does not see how the program is attempting to recruit more women, even with the hiring of Staurowsky. She is not sure if the program ever has specifically tried to recruit women, but the current state of the program does not feel very welcoming to her.
"I don't think men are going to be dissuaded when there's a woman who's the head of the sports media program, but I think women will feel a lot more supported than seeing an older white man as the program head," Harris said.
Loop said he hopes people will not make their college decision based on his race or gender. He said he treats each student as an individual, so he hopes they will do the same to him.
"I would hope that, in the year 2022, we would stop judging people by the color of their skin or their sex," Loop said. "I certainly don't want to be judged by that … that would be the wrong approach."
Staurowsky, despite being one of just three professors for the degree, said she does not know how recruiting for the major works. While she has made inquiries about the demographics of applicants, she said she has not been able to receive an answer.
"I have a lot of questions about the dynamics about our enrollment efforts and wish that I could understand them more," Staurowsky said. "I have no idea what's going on [in admissions], and frankly I'd very much like to know what's going on there, because I might be able to provide some insight, some recommendations, some suggestions."
AIR responded to a request from The Ithacan for application information, but it said the data was not publicly accessible.
Until the program begins to recruit more women, Mirabito thinks there are many things that the people already at the college can do to make the environment more inclusive. For starters, he said men can be more inclusive in their conversations, especially the ones that happen before class.
"I'm not sure if I've ever heard somebody come in and … offered commentary that was about the WNBA that was a male student," Mirabito said. "[But] it's a shift in culture, which takes a long time."
Clarification: Data for the number of students in the sports media major at the college in 2017 and 2018 include just the students in the School of Communication, not Health Sciences and Human Performance.