After falling short in overtime against the Vassar College Brewers in the Liberty league championship by a score of 1–0, the Ithaca College women's field hockey defeated the Brewers 1–0 on Oct. 1 at Higgins Field.
The first quarter was a defensive showcase, as both teams struggled to get any shots off. The Bombers only managed one shot on goal while Brewers managed two in the entire quarter. Both squads had an opportunity on corners, but neither could capitalize on those chances.
The second quarter followed the first quarter with strong defense continuing for both squads. The Brewers and the Bombers had two shots on goals and two corner opportunities. Ithaca College had a chance to score with 10:42 remaining in the second corner, but the Bombers couldn't get a shot off on the corner attempt as Brewers' senior defender Sarah Ryan cleared the zone.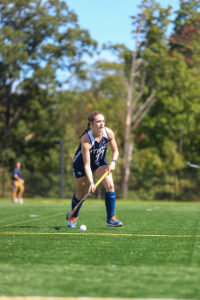 The Brewers would have back-to-back corner opportunities to take the lead, however, both attempts came up short as junior forward/midfielder Hailey Brigger's shot went wide left.
A green card on Bombers sophomore midfielder Meara Bury sent the South Hill squad down a woman, giving the Brewers a player up and a chance to capitalize on the numbers advantage; however, they did not manage a shot during that time.
The third quarter was quiet up until the final three minutes, in which the Bombers had two corner opportunities in that time. After graduate student midfielder Jacqueline Mirabile sent in the corner, sophomore striker Natalie Descalso's shot was deflected by junior defender Heidi Compton.
In the final minute, the South Hill squad had another chance to take the lead; however, after a corner attempt slipped through senior striker Morgan Mullen, the ball was sent to senior midfielder Arla Davis, whose shot was saved by junior goalkeeper Sarah Dumaresq.
Head coach Kaitlyn Wahila said the Brewers came in with a great game plan defensively to keep the Bombers quiet on the offensive side.
"They took away some of our attack game plan that we've been able to execute nicely over the few games," Wahila said. "They made us grind out this win."
In the fourth quarter, and the game looking to follow suit in the Liberty League championship, the Bombers had another corner opportunity with 1:48 remaining in regulation. After putting the ball in play, Mullen passed the ball to senior midfielder Brianna Lennon who had her shot saved by Dumaresq. However Dumaresq could not hold onto the ball, and Mullen put the ball in the goal off the deflection, giving the South Hill squad the lead.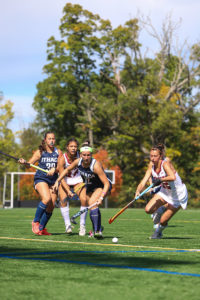 "When we scored, I felt the elation of scoring in the last 90 seconds," Wahila said. "We then just had to hold them for, which was the longest 90 seconds of my life."
The Bombers will now travel to Utica University to take on the Pioneers at 7 p.m. Oct. 5.