Day one
"Step over his leg!"
"That's two, ref!"
"Keep your head up, don't give it to him!"
The shouts of the crowd at the first day of the Ithaca Invitational on Nov. 4 came from all corners of the Athletics and Events Center, where a raucous crowd gathered to watch the first wrestling event hosted on campus that has allowed spectators since the 2019–20 season.
Spectators and wrestlers represented 12 different colleges from across the Northeast, including the Ithaca College wrestling team, and the spread of the fans was mostly equal, with no college having a clear numbers advantage.
For the parents there to watch their children compete, it was a welcome change for the college to allow fans back in the stands. Danielle Gordon, mother of first-year student Harrison Gordon from Johnson & Wales University, said the energy from the crowd makes waiting for her son to compete much more manageable.
"There's a lot of waiting sometimes," Gordon said. "[But], you know, it's just nice to be around the wrestling community."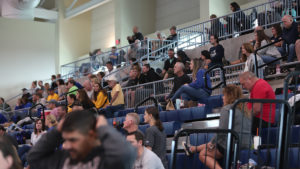 Gordon said there were times at wrestling meets when her son was in high school where the parents of athletes would shout, cheer and be so into the matches that they would end the day more sore than their children. The Ithaca Invitational was no exception; it was impossible to walk anywhere in the massive arena without passing by an enthusiastic parent.
Michael Leonard, father of first-year student wrestler Myles Leonard from Springfield College, said it was harder for many athletes during the COVID-19 pandemic to get in the zone at matches because of how quiet it was. 
"Some kids thrive on, you know, the cheer and the noise and everything," Leonard said. "Kids might not adapt to the [lack of] noise and stuff, you know. You don't get the excitement and juices flowing."
The event had seven mats rolled out on the floor of the Glazer Arena, allowing multiple matches to be going on at once — a necessity for an event that welcomed 280 wrestlers — which meant that roars erupted from the crowd at random intervals as wrestlers from different colleges won points or matches.
Last year, it was just teams, referees and some media members allowed in the gymnasium during competition. Junior Jeremy Mazzella, who wrestles in the 197-pound class for the Bombers, said it is much better now that restrictions have been removed and people are allowed back in the arena.
"It was super weird last year with there just being no fans," Mazzella said. "It almost felt like it was just performing for an empty crowd. Like, there was just no one there."
The excitement could be felt early on the first day when sophomore 149-pound wrestler Joseph Averill earned a 10–9 comeback win for the Bombers. Although it was just the first round of competition, the crowd exploded as they watched him fight his way back from down 8–2 to take the decision and advance to the next round.
Averill's win was not the only time an entire section of the stands celebrated — or complained — together. And even though the crowd at the Invitational was not just Bomber fans, Mazzella said he appreciated the energy nonetheless.
"It was fun to hear, you know?" Mazzella said. "There's just all these different fans from everywhere, and a lot of Ithaca [College] fans. But it was good. … [We had] a lot of our parents come and watch us, which was cool."
Whether or not it was because of the crowd, the Bombers finished day one of the Invitational sitting in a solid fourth place out of 12, scoring 37 points with several wrestlers having chances for a podium spot on day two of competition.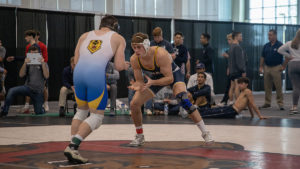 Day two
As fans filed into the A&E for day two of the Ithaca Invitational, the Bombers saw themselves in a prime position to have wrestlers end up on the podium.
While the Bombers were riding high, senior 149-pound wrestler Luis Hernandez was forced to forfeit his bouts on the second day because of an injury, but the day was still strong for the South Hill squad.
First-year student Isaias Torres, who wrestles in the 133-pound weight class, had an impressive showing in his first performance as a Bomber. After dropping his first contest of the day via pinfall against Castleton University fifth-year student Michael Gonyea in 48 seconds, he rebounded to win his next four on his way to a third-place finish, including avenging his loss against Gonyea in the third-place match. 
"That's one of the hardest things in a tournament when you lose a tough match," Torres said. "Especially the way I did, I got pin[ned] not even a minute in. And I went back and spoke to my coaches, and we made some adjustments. He told me what to work on and what to watch out for. Once I saw he had lost, I knew I would see him again for third place. So there's no better way to finish off a tournament than being the guy that beat you before." 
In his first competition with the team, Torres said he was happy with the performance he put forth.
"I had high expectations, but I had nothing to lose," Torres said. "So I just want to go out there and just do what I do best. Do what we've been practicing in the room. I expected to win the tournament, and that was the goal. But you know, taking third, you can't go wrong with that, too."
In his first event with fans back in the stands, Mazzella put up a solid performance on the day, going 3–2 while recording a pinfall in under a minute. While he said he knows he has room to improve, Mazzella is not beating himself up over his performance.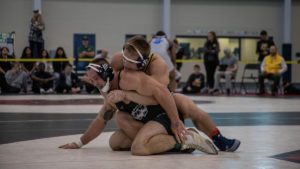 "I just felt like I was a little rusty since it was my first time wrestling in a while," Mazzella said. "So it was like that live feeling was like 'well have so many different moves in my head that I wanted to use.' But then when it came to the second day, I was feeling really good."
Torres said that watching the veterans of the roster wrestle was helpful for him. He also said seeing how they handle a collegiate wrestling atmosphere was something he could take and help improve his game.
"I want to be in that caliber in a couple of years, maybe [in] a couple of months," Torres said. "And it was impressive watching a lot of guys hitting the stuff we hit in the room."
One of the veterans that dominated that day was graduate student Eze Chukwuezi, who went undefeated in the tournament to claim first place in the 197-pound weight class. Junior Colin Herb said being able to watch Chukwuezi on his way to winning first place in his bracket was special.
"He was dominant," Herb said. "There was a reason why he took fifth [in the NCAA Division III championship]. Being down on the floor and watching his work and his craft is something pretty cool to see. He is just someone that anyone will have a hard time finding good opportunities against."
The Bombers finished the tournament in fourth place with 107 points. Johnson & Wales University went on to win the invitational with 182.5 points.
The Bombers will now turn their attention to a dual against Stevens Institute of Technology at 7 p.m. Nov. 11 at Saint Peter's Prep in Jersey City, New Jersey.